State 4-H Crop Judging Contest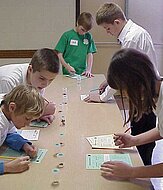 Crop judging participants evaluate crops for seed and factors affecting market quality, and identify crop and weed seeds and plants. Becoming a proficient crop judge includes:
identification of crops grown in North Dakota and the region
the correct identification of weed mounts and weed seeds
Contact your local extension office for local contest information
State 4-H Crop Judging Contest Resources
State 4-H Crop Judging Information
Winter Show Information
*Changes in ND law since publication was printed. It is still useful for crop identification and information.
**The list of restricted and noxious weeds has changed since this publication printed, use for identification aid only.