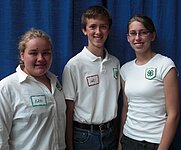 4-H Members are youth ages 8-18. This age group is part of the competitive program and has full membership in the 4-H program.
Purpose:
The purpose of 4-H membership is to give youth an opportunity to learn through hands-on, learn-by doing techniques. 4-H members learn about leadership, community service, and an endless variety of projects areas. Our vision for North Dakota is for 4-H members to become positive, productive citizens and catalysts for effective change to meet the needs of a diverse and changing society.

Clubs:
A 4-H club is made up of 5 or more youth from 3 or more families. Clubs normally meet one to two times a month. Meetings include a business meeting, project work, demonstrations, and social time. 4-H Club Management Materials
Projects:
Projects can be through individual study or in a group setting such as at a club meeting. Please see the Projects section of this website for more information. (View the record keeping on the projects page.)
Programs & Events:
4-H members in this age group can be involved in many different activities and events on local and state levels. Please see the Programs & Events section of this web site for information.