Stephenson Beck
Communication
Dr. Becks's co-edited book, The Emerald Handbook of Group and Team Communication Research, published was published by Emerald Publishing Limited in November 2021. This book "considers the current research of group communication scholars, provides an overview of major foci in the discipline, and points toward possible trajectories for future scholarship. It establishes group communication's central role within research on human behaviour and fosters an identity for group communication researchers."
Carol Archbold
Criminal Justice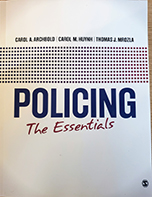 Dr. Carol Archbolds's book with Carol M. Huynh and Thomas J. Mrozla, Policing: The Essentials features a diverse range of officers in a variety of situations, sometimes controversial. Policing: The Essentials introduces you to the core concepts of policing by examining the constantly changing role and practices used by police in today's society. The authors connect key concepts to pressing issues such as defunding the police, the impact of the media on policing in the United States, racial profiling, police-invoked shootings, and police misconduct. With a unique chapter on police effectiveness and community policing, as well as an emphasis on diversity throughout the text, including racially diverse officers, LGBTQ, and female officers, you will develop a practical understanding of modern policing from which you can continue to build from as you pursue a degree. Read more.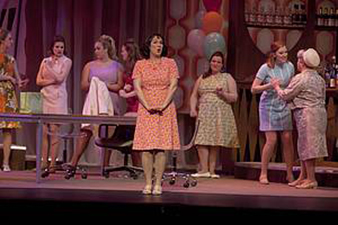 Dr. Mariane Lemieux performed in the 50th Anniversary Celebration Concert of Fargo Moorhead Opera. The concert was presented on October 20 in Festival Concert Hall and featured international artists such as Korliss Uecker, Stella Zambalis, and Michael Ching. Dr. Lemieux has sung at several major events with FM Opera, including the leading roles in Donizetti's La fille du Régiment (2014) and Pirates of Penzance (2016). She will also be featured with the company this season in a Cabaret evening on January 20-21
Faculty Grants and Fellowships
Dan Pemstein
Political Science and Public Policy
The College is proud to announce that Dr. Dan Pemstein, Dept. of Political Science and Public Policy, was awarded a grant from the National Science Foundation for $737,487. Dr. Pemstein is the principal investigator on this project. The NSF grant collaborates with individuals at the University of North Carolina at Chapel Hill and Brandeis for a total of $1,099,873. Dr. Pemstein's faculty page.
Grant Abstract:
"This grant supports infrastructure to collect data from around the world on cybersecurity, internet freedom, disinformation, coordinated information operations, and the politicization and polarization of social media. The project builds a global pool of experts who will provide data each year. It also advances methods to ensure that these data are valid. The project links the data to a massive set of political tweets, coded by place. Scholars and others can access these data through an online interface and open-source software. This project can help us learn how states monitor, alter, and control online space. This research is critically important to the US government, aid and human rights groups, and private industry. Policymakers can also rely on this project to better understand how and where to step in to curb internet-driven political violence, stop the spread of disinformation, reduce electoral manipulation, and enhance government accountability. Civil society groups can use assessments of online freedom and cybersecurity to improve human rights surveillance. Firms can use the data to reduce harm caused by their social media platforms. Finally, teachers and students can use this project to better understand politics in a digital world, equipping citizens to safely traverse the modern information landscape."
Community and Student Engagement Projects
Jess Jung worked with her storytelling students, who completed two performances over the course of the fall 2018 semester. First, students "slammed", or told personal stories a la The Moth Radio Hour, at a late night StorySLAM event open to the campus community. For their final project, students worked in groups to create original fairytales. Fairytales were performed for the kindergarten class at Longfellow Elementary School. Below is a picture of the students who performed at the Longfellow event.
Dan Pemstein
Political Science
Dan Pemstein (Associate Professor of Political Science) directs the measurement methods group, and sits on the steering committee, of the Variety of Democracy (V-Dem) project. V-Dem is a collaboration between more than 3000 scholars across the world to collect cross-national and historical (1789-present) data on over 450 indicators of democratic performance. These public data now inform a host of scholarly works, policy analysis and decision-making at organizations like USAID and the World Bank, and data-driven journalism by outlets like Bloomberg and the New York Times. Its online graphing tools also provide a fantastic educational resource for high school and college instructors. V-Dem, which won the American Political Science Association's 2016 award for the best dataset in comparative politics, also produces regular policy briefs, a graph of the week, a series that highlights timely trends in V-Dem data, and annual report that summarizes the global state of democracy.