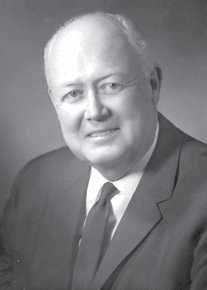 The late R.H. "Dick" Barry was a renowned financial consultant and economic catalyst who was described as "Fargo's doctor of financially ill businesses."
When Barry quit high school in 1926 to go to work as a messenger for First National Bank in Minneapolis, it was the beginning of a remarkable career in banking and business.
In 1935, as a young banker, Barry established the first installment loan department with the First National Bank, Bismarck, N.D. He came up with a plan in which people could consolidate their debts over a 12-month period with equal payments. Two years later, he set up a similar program at Midland National Bank in Billings, Montana.
Highly active in community business, political and civic activities his entire life, Barry helped organize the Bismarck chapter of the Junior Chamber of Commerce. At 26 years of age, he was elected a director of the First State Bank of Hebron, N.D.
In 1938, he was appointed to the executive committee to commemorate the 50th anniversary of North Dakota becoming a state.
Richard Barry transferred to Merchants Bank and Trust in Fargo in 1939. In 1943, he was named executive vice president of the Fargo Chamber of Commerce. In 1945, Barry became an officer with a company that would later become Smith Inc.
In 1948, he was asked to be the North Dakota campaign and finance chair for the Harold Stassen for U.S. President Campaign. The request came from future M.N. Gov. Elmer L. Andersen and future Chief Justice of the U.S. Supreme Court Warren Burger.
In 1953, he set out on his own, establishing Barry and Company. He quickly established a strong reputation for helping to save small businesses and banks for local ownership. Barry was considered a master of engineering corporate sales and developing financing plans. For instance, he was instrumental in organizing efforts to build the Southern Red River Valley Sugarbeet Corp. plant near Wahpeton.
In 1955, he formed the Martin Barry Central America Co., a western hemisphere trading company.
Barry held leadership roles for many business ventures, including serving as chair of the board of Dakota Electric Supply Co., assistant to the president of Dakota National Bank and a director of the E.A. Moline Construction Co., Jamestown. He also owned the Hallmark Remembrance Shop, Fargo. He was nominated for the board of the Federal Deposit Insurance Corporation.
Barry's activities and interests were wide ranging. For 25 years, he was a director, vice president and executive committee member of the North Dakota Automobile Club. He was vice chair of the state's Economic Development Commission, campaign and finance chair of the Cass County Republican Committee, a state official for the American Cancer Society and a member of the Governor's National Committee for the Eisenhower Presidential Library, Abilene, Kan. He was active in the American Red Cross, Civil Defense Program, Fargo Elks Lodge and the Pelican Lake Property Owners Association.
Barry discussed his career and philosophy in the book, "Success From Within; First We Make our Goals–And Then They Make Us," which was copyrighted in 1981.
He and wife, Louise, were married in 1933. They had two daughters, Susan and Lynne, and a son, John.
The Barry Foundation is located in Fargo. Its mission statement reads, "The Barry Foundation is a family foundation that affirms its founder's life-long philanthropic spirit and vision. Emphasis is placed on proactive philanthropy where opportunity is created to benefit individuals and communities both locally and globally."