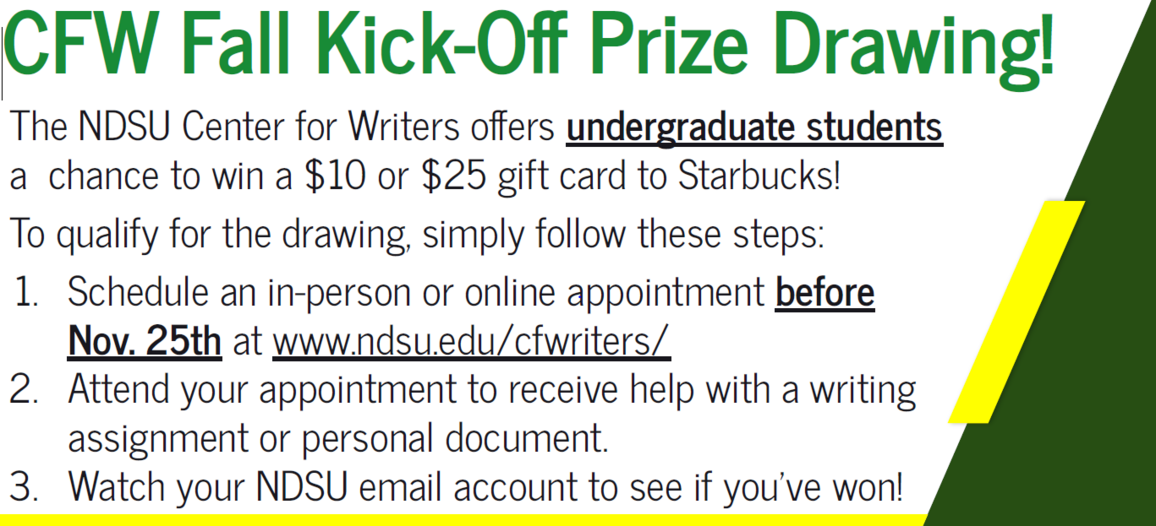 The Center for Writers offers in-person and online appointments for undergraduate and graduate students, faculty, and staff.
Click Here to watch a short introductory video.
Click the green button in the upper right column to create an account and make an appointment.
NOTE: Wearing a mask is currently optional at the Center. We will post updated information if the situation changes.
Our mission:
The Center for Writers (CFW) provides no-cost writing support to NDSU undergraduate and graduate students, faculty, and staff. A key component of our work is assisting writers in one-on-one sessions. We also provide writing courses, workshops, grant-writing guidance, services for distance students, and resources for writers and writing instructors.
Our writing consultants have experience working with a wide variety of documents at all levels. Our goal is to help our clients become independent writers; consequently, in our one-on-one sessions, we take time to thoroughly discuss issues that arise in drafts. We want to ensure the writer understands how to make appropriate writing decisions.
If you have questions about our services, please contact me at mary.pull@ndsu.edu .
We look forward to working with you at the Center!
Mary Pull
Interim Director
NDSU Center for Writers
To schedule an appointment, click HERE
Note: If you are scheduling your first visit, you will need to click "HERE" and then "Register for an account." If you have questions, contact us at ndsu.cfw@ndsu.edu or (701) 231-7927.
The CFW is open on regular class days:
Monday to Thursday -- 9:00 AM to 5:00 PM
Friday -- 9:00 AM to 2:00 PM
To find a time when you are available to work with a writing consultant, click
1. "Schedule an Appointment" above.
2. Select either "Undergraduate Schedule Fall 2022" or "Graduate Schedule Fall 2022" on the drop-down menu.
3. Please choose a consultant for your grade level.
Basement of the Library, Room 16