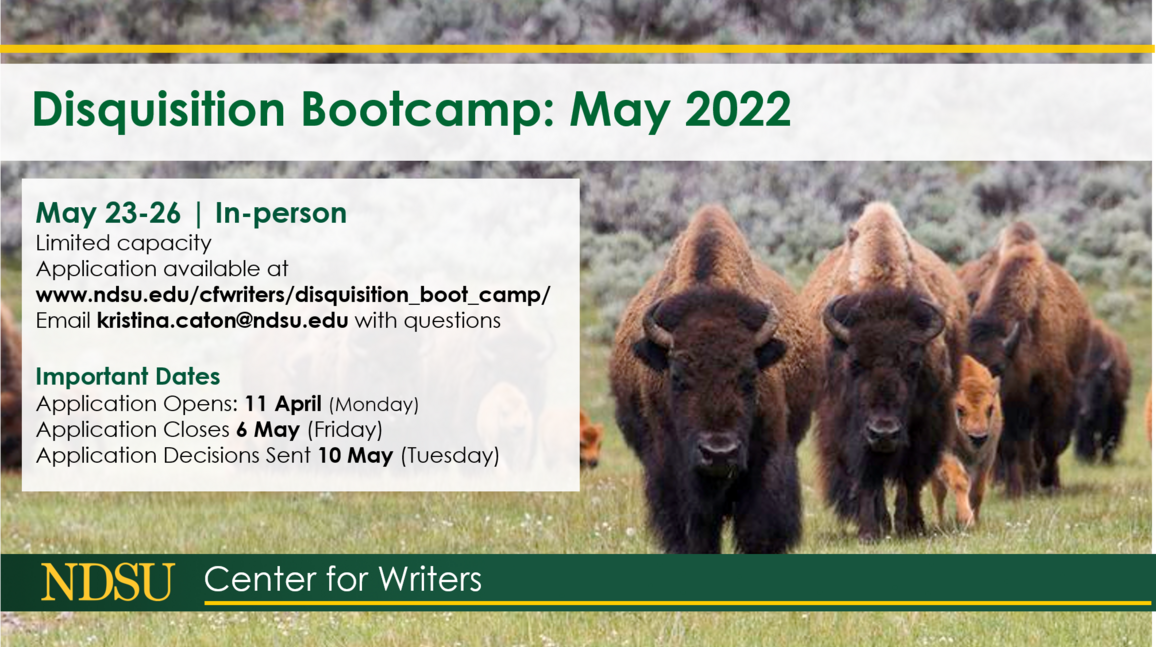 Summer Disquisition Bootcamp
May 23-26, 2022
9:00 a.m. - 4:00 p.m.
In-person at the Center for Writers (lower level of the library)
Brief breaks and one-hour lunch break
Application is required
The boot camp will require active writing throughout all four days, so you should be actively writing your disquisition or at least be ready to begin intensive writing. As part of the boot camp, plan on sharing written material for feedback from writing center consultants and fellow boot-campers.
Application Process:
You need to have the proposal for your disquisition accepted by your committee
Complete the information below and email it to Kristina Caton at: kristina.caton@ndsu.edu
Ask your advisor to approve your participation by sending an approval email to: kristina.caton@ndsu.edu
Refundable Deposit:
If selected to join the boot camp, a $50 refundable deposit needs to be paid via credit card or ACH payment in Marketplace for Bootcamp by May 18th. Your refundable deposit will be returned at the conclusion of the boot camp if you attend all four days.
Important dates:
Applications Open: 11 April (Monday)
Applications Close: 6 May (Friday)
Application Decisions Sent: 10 May (Tuesday)
Refundable Deposit Deadline: 18 May (Wednesday)