Office of International Programs Welcomes New Employees!
Amy Knudson: International Student Advisor/Alumni Outreach Coordinator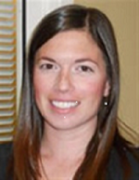 My name is Amy Knudson, I was born and raised in Fargo and I graduated from NDSU in 2008 with a BS in Business Administration and a BA in Spanish. This summer I started the MBA program at NDSU. I recently accepted my position this September with the Office of International Programs as an International Student Advisor/Alumni Outreach Coordinator. I studied abroad in 2006 in Granada, Spain, and the experience greatly influenced my life. After experiencing what it is like to be an international student I have much more compassion for and understanding of our international students here. I have been married for almost a year to my high school crush, and we are hoping to buy our first home in the next year so there are lots of new and exciting things going on in my life right now! My favorite things to do in my spare time are travel, spend time with family, and keep in touch with friends.


Jennifer Krautkremer: Administrative Assistant
My main job is to provide support to the Director of the Office of International Programs. Since I have started, I have been assisting the Associate Director with planning for visiting international delegations, organizing data and presentations, and many other projects. I also provide back-up front desk coverage, co-advise the International Student Association, and provide additional support to the office through assisting with special projects. I hail from Minnesota where I grew up in Brainerd and went to St. Cloud State University. After graduation I moved to Fargo and worked at Concordia College for two and a half years. I am also a part-time student in the Counseling and Student Affairs master's program at MSUM. I have two cats and love animals. In my spare time I enjoy cooking, watching movies, and reading.


Suzan Wolter: Administrative Secretary
Hi everyone! I'm the new receptionist/secretary in the Office of International Programs. My new job adventure with OIP started September 8th. What an exciting office this is! And what a perfect place for me to work, as I enjoy learning about our world, meeting new people, and traveling. I've enjoyed meeting international students from around the world and hope I can help them be a success as they study at NDSU. I am married, have three children and I'm a grandma! My favorite things to do are: spending time with my kids and hanging out with friends, camping, canoeing, reading, and walking.
Tabitha Thomas: Faculty Immigration Assistant
I'm the (new) Faculty Immigration Assistant to Deb Maertens in OIP. While I'm new to this position, I'm not new to NDSU nor the EDGO Division. I'm an NDSU alumna with a BS in Business Administration. I'm originally from the South (listen closely and you can hear it), but I've lived in the upper Midwest since 1997. I'm married, with 3 kids: an adult step-son and 2 daughters. After people hear that I'm from the South, the next question is "So, what brought you here to North Dakota?" and my answer is "My hubby". Although I LOVE my job and the people I've come to serve, my hubby has joked that I may have missed my calling because I also love photography (amateur). In the few weeks that I've been here, I've enjoyed the warm reception of joining a great team. Also, the Immigration Faculty that I've served so far, have been very gracious, and that is an unexplainable fulfillment that I was hoping for.