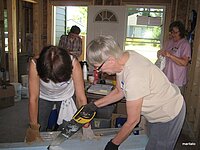 NDSU Women's Club was established in 1920 to serve as a nonprofit educational organization to enhance relationships within the University and surrounding communities. The group offers interest group opportunities for the members and provides academic scholarship to eligible NDSU students. Three large seasonal events for the entire membership are offered in Fall, Winter, and Spring. The NDSU Diversity Calendar provides the dates of these and other special events.
Interest Groups
Book Group- freewheeling discussion monthly about books read. Book exchange/donation options.
Midday Meetup – casual monthly lunches for conversation, news exchanges, and whatever comes up, plus occasional special gatherings.
International Women- monthly programs on diverse countries and topics, plus international cuisine tastings. For information about the group and this month's program, email internationalwomen.fargo@gmail.com
Valley Gardeners- for green thumbers or those who want to green up the world.
Sewing Group- mending, stitching, knitting… and chat. Whatever your fingers itch to do.
Poetry Writing Group- fun writing that stretches your haiku, limerick, and other writing.
Scholarship Award Program (Click here for information and application)
Scholarships are supported by members' dues and donations. Half of all membership dues are dedicated to scholarships at NDSU. Current membership dues are $20 general/$10 student for the academic year. For more information about scholarship guidelines, contact womensclub.ndsu@gmail.com
ACTion Team - members in partnership with community organizations have included A Women's Perspective at the Hjemkomst, Habitat for Humanity/Women-Build, United Way's Backpack Project for school children. ACTion Team facilitates volunteer action projects that are open to all members.
JOLT (Just One Little Thing) - gives any member the opportunity to volunteer with events setup and other one-time needs of the club.
Become a member
If you are interested in joining the club or receiving more information, please contact womensclub.ndsu@gmail.com

We can also be reached on Facebook: NDSU Women's Club