Knowing what courses you need and requirements you must meet is of central concern regardless of which masters track you select or whether you are a doctoral student. That's why we begin working on a curriculum plan with you as soon as you are admitted! We examine your transcripts with you, see what, if anything, meets the curriculum requirements for your graduate program, and then help you craft a plan that gets you graduated in 2 years if you are a masters student and 3 years if you are a doctoral student. A variety of resources are available to support this effort including our curriculum guides, course schedule, and Graduate Handbook.
The Department of Emergency Management and Disaster Science's Graduate Handbook does not just contain information to help you in course planning. It also contains important policy related to graduate study in our Department specifically and at NDSU in general. It is a key document that will support navigation of our graduate programs; and, students are expected to review it upon their arrival and consult it throughout the time they seek their degree
Making the Most of Your Time in Graduate School
The Department of Emergency Management and Disaster Science views the period of graduate study as presenting students with unique opportunities for learning and professional development. The Department expects incoming graduate students to immerse themselves in graduate study and participate in a variety of activities including the following:
Body of Knowledge
The Department of Emergency Management and Disaster Science expects students to take advantage of the opportunity to explore the emergency management body of knowledge both within and outside of the context of the students courses. There exists a broad and rich body of knowledge related to how human beings create, interact, and cope with hazards, vulnerability, and associated events; and, how human beings cope with hazard events through activities related to preparedness, response, recovery, and mitigation. This body of knowledge is represented in countless books, monographs, and journal articles. Students are strongly encouraged to independently explore this body of knowledge. The Emergency Management Research Resources Guide will help you identify and secure relevant literature.
Professional development is important to a successful emergency management career whether in practice or academia. We expect our graduate students to pursue professional development aggressively in light of their career goals, and we support students doing so through the Emergency Management Professional Development Ambassador Fund.
Thanks to the generosity of our alumni, program faculty, and other program supporters, graduate students will be able to access a one hundred dollar stipend for every qualifying professional development activity they attend as a representative of the Department of Emergency Management and Disaster Science and successfully complete—up to 5 per calendar year.
Qualifying professional development activities are trainings, workshops, conferences, and experiential learning events where student attendance enhances the Department's reputation and supports strengthening the Department's network. It is incumbent on higher education in this field to address both concerns with practice, and we want to promote doing so in a way that also serves students. Thus, professional development activities must also support implementation of the student's career goals.
All students need to do to access these funds is submit the short application form in which they indicate a) what professional development activity they intend to pursue, b) describe the connection between that activity and their career goals, and c) affirm how attendance supports the Department's reputation/network.
Colloquiums
The Department of Emergency Management and Disaster Science hosts departmental colloquiums throughout the academic year. Our colloquiums are informal settings for faculty and graduate students in emergency management to present their research. The colloquiums represent a unique opportunity for graduate students to present their work to colleagues and faculty at various stages and receive feedback critical to the development of their research. Specifically, it is hoped that graduate students utilize the colloquiums to develop their thesis or dissertation work and conference presentations.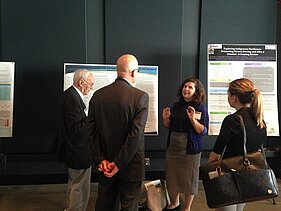 Conferences
The Department of Emergency Management expects graduate students to actively seek opportunities to attend both academic and professional conferences related to emergency management. Students are encouraged, where possible, to do a poster or paper presentation at the conferences they attend. Key conferences the Department would highlight include the FEMA Higher Education Conference, the International Association of Emergency Managers Annual Conference and Expo, the Natural Hazards Center Conference, and the National Association of Emergency Management Conference.
Research Engagement and Publication
The Department of Emergency Management strongly encourages students to seek opportunities to participate in ongoing Departmental faculty research and/or to seek opportunities to conduct their own research. This research could be in conjunction with or, in addition to, the student's thesis or dissertation. Students have recently collaborated with faculty on research related to evacuations, higher education programs in emergency management, emergency manager task involvement, NIMS and ICS use and usefulness, and more. All research done in our department is undertaken consistent with the Research Standards for the Academic Discipline of Emergency Management .
The Department of Emergency Management and Disaster Science strongly encourages students to develop articles for publication in emergency management journals. Publication is of particular importance for the professional development and marketability of doctoral students. Students can make valuable contributions to the emergency management body of knowledge by exploring emergency management theory (e.g., articulating theory, exploring methods and methodological issues in the development of theory, analyzing theoretical constructs from disciplines outside emergency management and their application to emergency management, etcetera), developing literature reviews that synthesize and integrate the disaster literature from various disciplines, and reporting the findings of original research.
Our students have recently published in International Journal of Mass Emergencies and Disasters, Risk Analysis, Natural Hazards, Journal of Emergency Management, Risk, Hazards, and Crisis in Public Policy, and other scholarly outlets.
Graduate School Resources
The Graduate School at NDSU has many resources for current students.
The Graduate School Student Forms page contains a number of forms that current students will need during their time studying emergency management including the forms for Plans of Study (should be filed within first year of study in a graduate program), the Request to Schedule Examination (form must be filed two weeks prior to a thesis or dissertation proposal and defense), and the Application for Graduate Degree (form should be filed the semester when coursework completed).
The Graduate School Dissertation, Theses, and Papers page contains important information regarding the completion of dissertations, theses, and papers including the Guidelines for Theses, Dissertations, and Papers, Disquisition Completion Package, and Master's and Doctoral Examination Packets, among others.
The Graduate School Funding Opportunities page contains links to information about a number of funding opportunities for current students including funding sources for thesis and dissertation research.