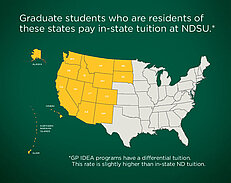 The quality of the education you get in NDSU's Department of Emergency Management and Disaster Science is unparalleled and affordable.
It costs less to be a full-time, out-of-state student for an academic year at NDSU than at other institutions offering emergency management graduate programs. For example, the cost of your graduate education at NDSU is less than at Capella University, Jacksonville State University, Oklahoma State University, University of New Haven, University of North Texas and other institutions. And there a number of ways to make it even less expensive.
Assistantships. All graduate students are considered for a teaching or research assistantship based on departmental needs and resources at the time of acceptance. If you get an assistantship, your tuition is covered and you get a stipend to support your living expenses.
In-state rates. You qualify for in-state tuition if you live in one of 16 western states or territories.
Articulation agreement benefits. If you went to an emergency management master's program at an institution with whom NDSU's Department of Emergency Management and Disaster Science has an articulation agreement, you may shave off a semester or more of your doctoral studies — resulting in additional savings. We currently have articulation agreements with Arkansas State University, Arkansas Tech University, Millersville University, and York University. Contact us to learn more.
The Programs are Career Focused
As a new student in NDSU's emergency management graduate program, we will talk with you about your career goals before your first class. Regardless of whether you intend a career as an emergency management professional, a researcher, an educator or a policy maker, we will work closely with you to ensure you know what it will take to achieve your goals.
The Graduate School at NDSU runs a Graduate Professional Skills Academy with training sessions, workshops and guest speakers and panels throughout the year to support your preparation for a career in practice or academia.
But the most significant support will come from the NDSU emergency management faculty, who are more than typical graduate advisers. We meet with our students face-to-face and often. We will help you identify what you can do to maximize your chances of completing our graduate program and walking into a job. We will help you craft individual development plans; we'll be both your cheerleaders and accountability partners. At commencement, we will proudly celebrate your graduation and the next stage of your career.
Every three years, we survey our program graduates to learn about their job placement outcomes. We last surveyed Fall 2020, and 80% of our graduates responded. We are thrilled to report that 94% of respondents who graduated in last three years have secured full-time employment, and 72% achieved job in intended category. The latter finding means that those who wanted emergency management jobs got them, those who wanted emergency management-related jobs (e.g., law enforcement, fire, military, public health, etc) got them, and those who wanted non-emergency management jobs got those. And 61% achieved their job in their intended category in 3 months or less.
Our master's program graduates primarily go into practice and have landed in diverse job settings (e.g., disaster relief in nonprofits, planning, floodplain management, public health emergency preparedness, hospital emergency management, etc.). Some graduates go on to get a doctoral degree.
Our doctoral program graduates most often go on to teach in full-time positions in emergency management higher education programs with most running those programs. Some graduates have opted to instead go into practice, consulting or research positions.
You'll Eat, Drink and Breathe Emergency Management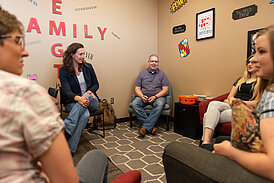 Our face to face, small graduate program provides you the opportunity interact daily with professors and peers who are down-to-earth and easy to talk with, both in and out of class. We spend a ton of time studying, working and conversing, both in formal settings, such as classrooms, and informal settings, such as the student lounge or a nearby coffee shop. We'll know your name and story, and you will know ours. We will discuss and debate virtually any emergency management topic with you. And because we eat, drink and breathe emergency management together for the time you are studying, you will leave with friends and faculty who will remain key parts of your professional network and support system throughout your education and future career.
You'll Learn from the Best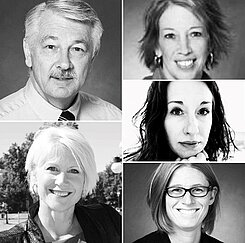 We are face to face.
We were the first to offer a doctoral degree.
We are one of a few institutions to offer all levels of degrees.
We lead national groups working on emergency management programs, theory and curriculum.
We collaborate with national, state and local officials on enhancing practice and research in the field and even have formal partnership agreements cementing our relationship with some!
NDSU is a major research university where students learn from top researchers in their fields. Faculty members in the emergency management department are internationally known for influencing the development of the field and academic discipline. They also are known for conducting cutting-edge research that involves undergraduate and graduate students.
You'll Be Part of Exciting and Important Work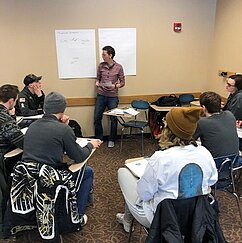 We are at the forefront of the nation's ongoing work to improve how we deal with hazard events before, during and after they occur. Our department is the only one of its kind to be supported by scholars in emergency management – 80 percent of our faculty hold a doctorate in emergency management. Through our combined efforts, we are transforming how people learn about hazards, vulnerabilities and the emergencies, disasters, catastrophes and complex humanitarian crises that result. Our faculty are internationally known for our research, leadership in developing higher education programs in emergency management and our ongoing efforts to partner with practitioners and professional organizations in the field.
As a graduate student, you will become part of this exciting and important work. You will develop as a scholar through our curriculum which will:
Engage you in developing theory related to hazards, vulnerabilities and hazard events
Examination of where theory meets on-the-ground realities of policy, program, and contexts
Provide opportunities through research assistantships and/or the curriculum to develop research projects and publish work in scholarly journals before graduation both independently and working with faculty
Help you gain teaching skills in course design, pedagogy and assessment through opportunities in our Teaching Mentoring Program and/or teaching assistantships
You'll Fall in Love with Fargo (or not)
You do not have to move to Fargo to complete our master's program comprehensive study track--you can complete it remote synchronous if you like! But for students who come to do the master's program thesis track or our doctoral program, you'll fall in love with the area!
Fargo-Moorhead has a population of more than 220,000, making it the largest community between Minneapolis and Seattle. The city consistently appears on national lists of best places to live and is noted for its safety, health care, recreation, job opportunities and economic development.
The community offers a vibrant downtown, fine dining, movie theaters, boutique shopping, sporting events, concerts and shows at many venues. It has a thriving arts scene and an energetic community of entrepreneurs and innovators. Many parks throughout the metro area offer outdoor recreation opportunities for every season.
The F-M area is friendly, safe and easy to get around. Bus service both around campus and in the community is free for NDSU students. An international airport, train service and a commercial bus line serve Fargo-Moorhead.