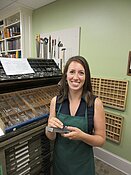 Dr. Amy Gore, Assistant Professor of English
Affiliate Faculty, Women and Gender Studies
Affiliate Faculty, Tribal and Indigenous Peoples Studies
Ph.D. English Language and Literature (University of New Mexico, 2019)
Office: Minard 318
Contact:amy.gore@ndsu.edu
Research/Teaching: Early and Nineteenth-Century American literature, Indigenous literature, book history and print culture, Gothic literature, body studies, and the recovery of marginalized women and Native American writers
About Dr. Gore
Amy Gore's scholarship and teaching specializes in early Indigenous and American literatures, with interests in book history, gothic literature, body studies, and the recovery of marginalized women and Native American writers. Her degrees include a B.A. in English (Eastern University, PA), an M.A. in Native American Studies (Montana State University, MT), an M.A. in English (Bread Loaf School of English, Middlebury College, VT), and a Ph.D. in English (University of New Mexico, NM).
Her current book project, provisionally titled Material Matters: Paratextual Bodies in Nineteenth-Century Indigenous Literary History, theorizes the material relationships between books and bodies in nineteenth-century Indigenous literary history to claim the book itself as a form of embodied power relations. She has also begun archival research on a second book project on the literary recovery of nineteenth-century woman writer Ann S. Stephens. Her most recent articles appear in Studies in American Indian Literature, Pedagogy, and Western American Literature.
Currently, she teaches courses in early American literature and multi-ethnic writing. She serves on the executive committee for the Society for the Study of the Multi-Ethnic Literature of the United States (MELUS) and on the editorial board for Studies in American Indian Literatures (SAIL). She was recently inducted into the Andrew W. Mellon Society of Fellows in Critical Bibliography, and her awards include the Center for Regional Studies Hector Torres Fellowship, the Emerging Scholars Professional Development Fellowship from the Association for the Study of American Indian Literatures (ASAIL), the Bibliographic Society for the University of Virginia Scholarship, the Elisabeth and George Arms Research Grant, and the Vogel Award in Teaching Excellence.
English 474/674: Native American Literature
English 476/676: Topics in American Literature,
"Forgotten Genres of American Book History"
English 345: Themes in American Culture, "Citizenship and Suffrage"
English 336: Literature and the Environment
English 335: Multicultural Writers
English 262: American Literature II
English 261: American Literature I
English 220: Introduction to Literature
TIPS 101: Tribal and Indigenous Peoples Studies
Books
Book Anatomy: Paratextual Bodies in Nineteenth-Century Indigenous Book History. (Under contract with the University of Massachusetts Press).
Peer-Reviewed Publications
"Temperance Periodicals in the Suffrage Cause: Women's Activism in North Dakota's White Ribbon Bulletin." Co-authored with Beth Twomey (Under review)
"Dispossessed: Paratextual Dismemberment, Copyright, and Property Rights in John Rollin Ridge's Murieta." (Under review with J19)
"Teaching Indigenous and Multi-Ethnic Literature Through Book History." In Teaching the History of the Book, edited by Emily Todd and Matteo Pangallo. (Forthcoming with the University of Massachusetts Press).
"Embodied Learning in a Digital Age: Collaborative Undergraduate Instruction in Material Archives." Co-authored with Glenn Koelling. Pedagogy: Critical Approaches to Teaching Literature, Language, Composition, and Culture, vol. 20, no. 3, 2020, pp. 453-472.
"Pretty Shield's Thumbprint: Body Politics in Paratextual Territory." Western American Literature

, vol. 55, no. 2, 2020, pp. 167-192.
"Gothic Silence: S. Alice Callahan's Wynema, the Battle of the Little Bighorn, and the Indigenous Unspeakable." Studies in American Indian Literatures, vol. 30, no. 1, 2018, pp. 24-49.
Selected Honors and Awards
National Endowment for the Humanities Summer Stipend: Book Manuscript, "Material Matters: Books and Bodies in Indigenous Literary History, 1772-1936" (2021)
Andrew W. Mellon Society of Fellows in Critical Bibliography, Rare Book School, University of Virginia (2020-2023)
Vogel Award in Teaching Excellence, Department of English, North Dakota State University (2019-2020)
Susan Deese-Roberts Outstanding Teaching Assistant of the Year, University of New Mexico (2018-2019, university-wide competition)
American Literary Studies Arms Dissertation Completion Award, Department of English, University of New Mexico (2018)
Irene B. Kimball Endowed Scholarship, English Department, University of New Mexico (2017)
William T. Buice III Scholarship, Rare Book School, University of Virginia (2017)
Feminist Research Institute Graduate Student Research Grant, University of New Mexico (2017)
The Center for Regional Studies Hector Torres Fellowship, University of New Mexico (2016-2017)
The Dorys Grover Award, Western Literary Association (2016)
Paul Davis and Cheryl Fresch Literature Teaching Award, Department of English, University of New Mexico (2015-2016)
Bibliographical Society of the University of Virginia Scholarship, Rare Book School, University of Virginia (2015)
Elizabeth and George Arms Research Grant, Department of English, University of New Mexico (2015)
Emerging Scholars Professional Development Fellowship, Association for the Study of American Indian Literatures (2011)