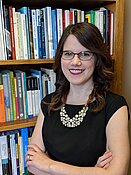 Office: 318 E36
Email: Mary.McCall@ndsu.edu
About Dr. McCall
August 2017, I joined the NDSU faculty as an Assistant Professor of English in Professional/Technical/Scientific Rhetoric and Writing. I received my PhD and MA degrees in rhetoric and composition at Purdue University and my BA in English with a minor in creative writing at Fairfield University.
My research interests include professional and technical writing, writing across the curriculum, and women's, gender, and sexuality studies, with an emphasis on the intersections between gender and identity development within engineering. I have published in Technical Communication Quarterly and IEEE Transactions on Professional Communication, and am currently working on research analyzing the post-racial messages of beauty within Dove's Campaign for Real Beauty. Prior to coming to NDSU, I worked for two years as a technical writer for the NSF-funded Center for Science of Information at Purdue University.
At NDSU, I run the English Department's UX lab, which involves both undergraduate and graduate students in usability-focused, client-based projects both for the department and Fargo-Moorhead community. Courses I have taught here include Introduction to Writing Studies (ENGL 275), Writing in the Technical Professions (ENGL 321), Usability and User Experience (ENGL 449/649), Teaching Upper Division Writing (ENGL 765), and Composition Theory (ENGL 755). For Fall 2019, I will be teaching Contemporary Women Writers (ENGL 331) and Topics in Rhetoric, Writing, and Culture (ENGL 758) with a focus on feminisms, rhetorics, and embodiment.
I also love continuing to write poetry (I published a chapbook, Siring with Sirens, in 2015), baking, and watching Shark Week. This past summer, I also served as co-Headmistress with Dr. Holly Hassel for NSDU's first week-long Wizarding Academy camp. #Gryffindor
Website: https://marymccall.<wbr />org