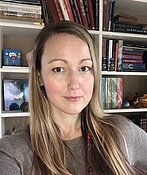 Office: Minard 318 E48
Email: anastassiya.andriano@ndsu.edu
Anastassiya Andrianova is an Associate Professor of English. She received her Ph.D. in Comparative Literature from the Graduate Center of the City University of New York (CUNY), specializing in British literature and philosophy of the long 19th century. Dr. Andrianova is committed to introducing ecocriticism, animal studies, and disability studies to discussions of Romantic, realist, and Modernist literatures, particularly in Russian and Ukrainian studies where these theoretical concerns are underrepresented. She has published on animal studies, zoopedagogy, ecospirituality, Ukrainian drama, British Victorian pedagogy, postcolonial literature, and children's literature.
Courses Taught
English Studies Capstone Experience
Literary Analysis (undergraduate) and Critical Theory (graduate)
British Literature II
World Literature
Being Human: The Monster Within
Multicultural Writers
Introduction to Literary Studies
Romantic Literature: Romantic Autobiography (undergraduate and graduate)
Topics in British Literature: Global Postcolonialisms (undergraduate and graduate)
Topics in British Literature: Animals in the British Isles (undergraduate and graduate)
Writing in the Humanities and Social Sciences
Recent Publications
Refereed Journal Articles:
"Mavka as Willow: An Ecofeminist Analysis of Lesja Ukrainka's Forest Song." Studi Slavistici, vol. xviii (special volume), no. 2, 2021 [2022], pp.173-188.
"A Critical Disability Reading of Lermontov's 'Taman'." DisabilityStudies Quarterly, vol. 41, no. 2, June 2021.
"A Disability Reading of Ivan Turgenev's 'Mumu'." Russian Literature, vol.124, August September 2021, pp. 53-78. DOI: https://doi.org/10.1016/j.ruslit.2021.04.001
"Ecofeminism in Film Adaptations of Lesia Ukrainka's Forest Song." Kyiv-Mohyla Humanities Journal, vol.8 (Lesia Ukrainka's Global Artistic and Philosophical Universe: Past and Present), 2021, pp. 46-67.
"The Reception of Cavafy in Russia and Ukraine." Scandinavian Journal of Byzantine and Modern Greek Studies, vol. 6, 2020 [2021], pp. 161-183.
"To Read or Not to Eat: Anthropomorphism in Children's Books." Society & Animals (published online ahead of print 2021). DOI: https://doi.org/10.1163/15685306-bja10045
Mentioned as one of "New HAS Articles and Book Chapters" in the Animals & Society Institute's Human-Animal Studies Report, July 2021.
Invited interview: Simpson, Victoria, and Jared Piazza. "The Perils of Presenting Animals as Humans to Kids: An Interview with Dr. Anastassiya Andrianova." Interview. PHAIR Society, 19 September 2021.
Invited zoom webinar: Early Childhood Relationships with Animals, organized by the National Lawyers Guild NYC Animal Rights Committee, 4 March 2022.
"Why Did Gerasim Drown His Mumu? Animal Subjectivity in Turgenev's 'Mumu.'"Journal for Critical Animal Studies, vol. 17, no. 4, July 2020, pp. 29-52.
2021 Annual Critical Animal Studies Award Winner: Critical Animal Studies Faculty Paper/Project of the Year
Chapters in Edited Volumes
"A Spokesbear for Climate Crisis? The Role of Zoos in Yoko Tawada's Memoirs of a Polar Bear." Nonhuman Animals, Climate Crisis and the Role of Literature,
co-edited by Matthias Stephan and Sune Borkfelt. Palgrave, 2022. Forthcoming.
"Can the Animal Consent? Zoophilia and the Limits of Logocentrism." Gender and Sexuality in Critical Animal Studies, edited by Amber E. George. Lexington
Books, 2021, pp. 181-199.