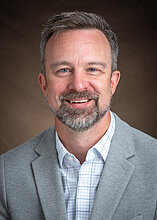 Dr. Sean Burt, Associate Professor
Office: Minard 422A
Phone: 701-231-8820
Email: Sean.Burt@ndsu.edu
Hello! I am an Associate Professor with a joint appointment in Religious Studies and English. My research interests are in ancient Jewish and Israelite literature, particularly in biblical Hebrew poetry and Persian Period Jewish literature. Much of my research investigates ancient literary form, especially the ways in which the ancient writers themselves engaged with poetic and narrative forms. I am also interested in poetics and lyric poetry, reception of the Bible in contemporary poetry and film, and aesthetics. Among the projects I am currently working on are an essay on interconnections between biblical poetry and the poems of Alicia Ostriker, an essay on the Bible and the films of Robert Bresson, and a project on poetry and aesthetics in the prophetic book of Ezekiel.
At NDSU, I teach courses in both Religious Studies (Hebrew Bible; World Religions; History of Judaism; History of Christianity) and English (Introduction to Poetry; The Bible as Literature; World Literature; Critical Theory; Affect Theory). I have also taught courses in the First-Year Writing Program and the University Honors Program.
I am currently the President of the Upper Midwest Region of the Society of Biblical Literature.
Recent Publications
Monograph
The Courtier and the Governor: Transformations of Genre in the Nehemiah Memoir. Journal of Ancient Judaism Supplements 17. Vandenhoeck & Ruprecht, 2014.
Articles and Book Chapters
"'What Kind of Likeness?': The Aesthetic Impulse in Biblical Poetry." Co-authored with Elaine T. James. Prooftexts: A Journal of Jewish Literary History 38.1 (2020): 1-33.
"The Snake, The Poet: Art and Duplicity in Margaret Atwood's Poetry and the Hebrew Prophets," in "Who Knows What We'd Ever Make of It, If We Ever Got Our Hands on It?": The Bible and Margaret Atwood, edited by Rhiannon Graybill and Peter Sabo, Gorgias Press, 2020.
"'Your Torah is My Delight': Repetition and the Poetics of Immanence in Psalm 119." Journal of Biblical Literature 137.3 (2018): 685–700.
"'This Is a Lamentation—It Has Become a Lamentation': Subverting Genre in Ezekiel 19," in Biblical Poetry and Art of Close Reading, edited by Elaine James and Blake Couey, Cambridge University Press, 2018.
"Essays on Isaiah 24-27, Haggai, Zechariah, and Malachi," in "Covenant in the Persian Period," edited by Steven Schweitzer. Journal of Hebrew Scriptures 18.6 2018.