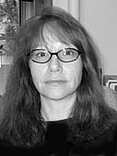 Claire Strom came to NDSU in 2000 as an assistant professor of history. She teaches classes in public history and historical methodology as well as about the American South.

Strom grew up in England and received her BA and MA from Oxford University. Moving to the United States, she attended Iowa State University, gaining her PhD in 1998 in agricultural and rural history. Her dissertation work examined the efforts of the Great Northern Railway management to influence the agricultural practices along the line. This work culminated in a monograph, Profiting from the Plains: The Great Northern Railway and Corporate Development of the American West, published by the University of Washington press in 2003.
Currently, Strom is researching the eradication of the cattle tick in the American South in the early twentieth century. The eradication program, launched by the federal government in 1906, was violently opposed by some southern farmers. The opposition manifested itself in dynamiting dipping vats and shooting federal agents. Strom hopes to explain the reasons for this opposition. This book-length project, tentatively titled Making Cat Fish Bait out of Government Boys: Southern Yeomen Opposition to Cattle Tick Eradication, 1900-1940, is under contract with the University of Georgia press.

Strom is very interested in history in the public arena. She served for a number of years on the Cass County Historical Society Board and continues to work with the city of Fargo as the vice-president of the Historic Preservation Board. The board is in the process of developing an overlay historic district for downtown Fargo that will provide guidelines for development and help protect existing investment in the area. In 2002 she published a pictorial history of the city with her colleague, David Danbom. She also works on historical outreach into the public schools. Since 2001 she has been the Fargo regional coordinator for National History Day—a competitive national program for grades 6 through 12.
Strom has served on a number of departmental, college, and university committees. She is especially interested in the use of technology in humanities education. Additionally, she has worked with women's issues on campus, being active in the annual Women's Week and formally mentoring female students through the university's Leadership Quest program.

In 2003, Strom became the editor of the scholarly journal, Agricultural History. This was the first international journal to be housed at NDSU and only the second in the state. The journal comes out quarterly, and Strom is responsible for acquiring manuscripts, soliciting peer reviews, and editing the final text. The journal, a product of the Agricultural History Society, is interdisciplinary. It disseminates the best scholarship on agriculture and rural life being produced worldwide. More information about the journal is available at http://aghistorysociety.org.