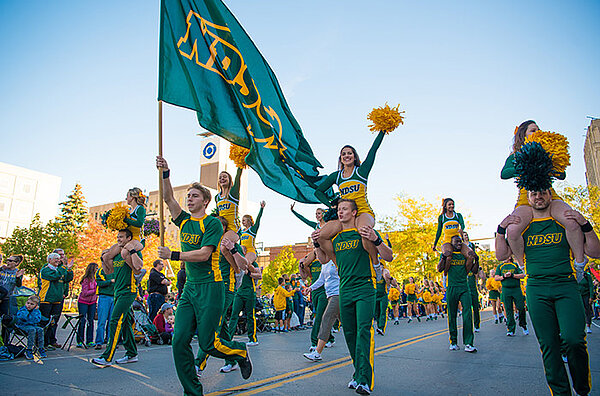 NDSU Homecoming celebrates our contributions as a Top 100 research university while we enjoy successful athletics in a great community.
---
Monday, September 17

11 a.m. – 1 p.m. Homecoming BBQ and Pep Fest, Administration Ave. west of the Memorial Union
Medallion Hunt sponsored by Campus Attractions
Clues posted daily until found.
Tuesday, September 18

8:30 a.m. – 4:30 p.m. Serve with the Herd – Community service project day
Contact the NDSU Volunteer Network at NDSU.Volunteer.Network@ndsu.edu or 701-231-1055 to sign up
Thursday, September 20

7:30 p.m. Homecoming Show and Coronation, Festival Concert Hall
12:15 a.m. – 5:15 p.m. Blood Drive, Administration Ave.
Friday, September 21

10 a.m. President State of the University Address, Festival Concert Hall
*Live streaming video of the event will begin at 9:55 a.m. at ndsu.edu/president/speeches

11:30 a.m. Athletic Hall of Fame luncheon, Sanford Health Athletic Complex

5:30 p.m. Homecoming parade, downtown Fargo

7 p.m. Bison volleyball vs. South Dakota, Bentson/Bunker Fieldhouse
9:30 p.m. – 1 a.m. Bison Roller Rave
Free to students, skates provided
Presented by Campus Attractions
Saturday, September 22

8 a.m.-1 p.m. Tailgating for the Homecoming football game, Fargodome
*All fans are welcome to tailgate.
1 p.m. Kickoff Bison vs. Delaware, Fargodome
9 p.m. Homecoming Dance Bison After Dark, Memorial Union Great Plains Ballroom
Free student event presented by the Residence Hall Association
Contact giovanni.escalera@ndsu.edu with any questions about the event.
Thank you to our Homecoming BBQ and Pep Fest sponsors: Gate City Bank, Costco, Big 98.7, Brakebush and Sysco.
---