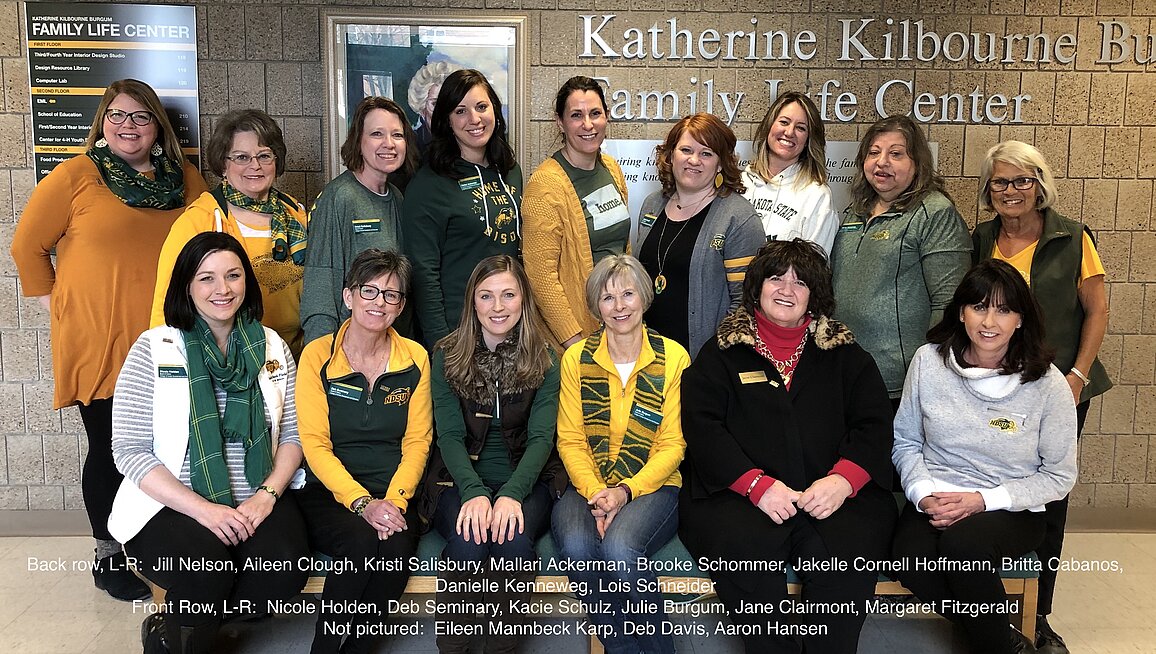 The mission of the Board of Visitors, College of Human Sciences and Education, is to be an advocate and resource for the College -- its faculty, staff, and students.

To serve as an active link to those external to the University in communicating the College mission, goals and programs.

Assist the College and its programs in remaining responsive to the needs of business, industry, education and communities.

Actively organize, participate and promote the College's fund raising programs; cultivate prospective donors.

Support and inspire the Board of Visitor's scholarship program through contributions and governance.
Members are invited to serve by the Dean, but do let us know if you are interested.

Below is our current Board of Visitors:

MALLARI ACKERMAN
Director of Sales
Fargo Moorhead Convention and Visitors Bureau
Fargo ND


Mallari Ackerman is a Fargoan through and through. Spotlight Media's 2015 quiz "What Type of Fargoan Are You?" labels her as a Socialite, which is very fitting for a foodie indulging at new restaurants or crafter partaking in a local event.
Her love of travel and Fargo first intertwined while earning her degree in Hospitality and Tourism Management from NDSU. She did her internship in London, England shortly before graduating in December of 2009. From there, she moved to Uganda, East Africa to serve as a mission team coordinator at a children's center. But seeing the world still brought her back home, to Fargo.
Mallari started her career in the sales department at the Fargo-Moorhead Convention & Visitors Bureau in March of 2012 as an account manager. Her role consisted of selling the destination of Fargo, Moorhead and West Fargo to meeting planners in various markets. In September of 2017, Mallari was promoted to Director of Sales, leading the team of sales and services for convention planners and tour operators.
In her spare time, Mallari likes to fish and camp in the summer and bake and scrapbook in the winter months. She and her husband, Evan, have a 7-year-old beagle, named Zooey, and a new kitten, named Brinkley. When they can, the two like to travel to new locations and photograph their adventures.

BRITTA CABANOS
Creative Director
Creative Capital Design
and Founder/Director, Inside Fashion Design (http://insidefashiondesign.net/)
Portland OR


Britta is a Moorhead, MN native and graduated from NDSU in 1990 with a BS degree in Apparel and Textiles. She continued her education at The Fashion Institute of Technology in New York City, earning an Associates degree in Fashion Design. Britta spent the first 15 years of her career working in the NY apparel industry as a designer for several brands including Danskin, Donna Karan and Tommy Hilfiger. In 2004 Britta and her family relocated to Portland, Oregon where she became the Brand Manager at Jantzen swimwear and a Senior Designer for Nike swimwear. One of her career highlights was working with the Nike Advanced Innovation Lab developers to create product worn by elite athletes for the Olympic games. In 2012 Britta co-founded Creative Capital Design, an apparel design consulting studio that serves small to midsize apparel companies in the athletic and outdoor apparel markets. She enjoys living and working in Portland, OR which is the hub of the athletic apparel market. She is a long time supporter of World Vision and a member of Women of Vision supporting women and children causes. She enjoys spending time with her family, traveling and exploring new places, photography, yoga and hiking. Britta returns to Fargo/Moorhead area often to visit friends and family and is proud to be a NDSU BOV alumni member.

JAYNE CLAIRMONT
Owner, Consultant
English Rose Suites, b home Home Care
Edina MN


Jayne Clairmont is a nationally recognized leader and consultant in providing care for those living with Alzheimer's disease and related dementias. Clairmont is the President and CEO of English Rose Suites, a proven and successful residential model for memory care, located in Minneapolis, MN and bhome Home Care offering the same superlative care for which English Rose Suites is known, for those who are able to stay in their own home environment. English Rose Suites and bhome Home Care uniquely address the biological, social, spiritual, and psychological aspects of the whole person, realizing this is paramount for optimal health and well-being. Clairmont is an exceptional caregiver and inspiring teacher who brings her passion for changing the landscape of memory care into her consulting services. Her ability to share her expertise and real life experience in caring for people living with dementia is inspiring and transformational. Her coaching, training, and consulting have empowered leadership teams and staff of numerous organizations across the country to achieve operational excellence and deliver the highest quality of care. Clairmont is a featured speaker at state and national conferences on a variety of aging topics. Jayne's greatest joy, and that which remains closest to her heart, is working directly with individuals and their families helping them find dignity and comfort on the next leg of their journey together. Her approach provides families with an educated view of what is happening in their loved one's aging mind, helping them to engage from a more compassionate and enlightened footing, enabling families and their elders to truly enjoy "being in the moment" together!
Consulting and Program Offerings:
Leadership Team Coaching and Management Development
Staff Development: Increasing Performance through Empowerment and Engagement
Operational Review: Helping Clients Achieve Measurable Excellence
Memory Care Program Development
Environmental Assessment
Organizational Engagement:
ACT on Alzheimer's - Serving on Early ID Leadership Group
Minnesota Board on Aging Member
Alzheimer's Association/Chicago, IL - National Conference Planning Committee
Leading Age Minnesota - "Guiding Principles of Dementia Care" Committee Vice Chair
Alzheimer's Association/MN-ND Chapter - Chair, Member of Board of Directors
Care Providers of Minnesota - Environmental Assessment Advisor
Argenutm, formerly ALFA - Dementia Institute Teacher
Mather Lifeways, Evanston, IL - "Leap for Senior Living" Content Advisor
Governor's Council on Developmental Disabilities - Board Member
Dementia Action Alliance - Washington, D.C.
North Dakota State University College of Human Development and Education Board of Visitors - Board Member
---
JAKELLE CORNELL
Associate with the Bishop for Administration and Development
Evangelical Lutheran Church of America
Fargo ND



DEBORAH DAVIS
Assistant Director
Northeast Human Service Center
Grand Forks ND


I was born in Billings MT and grew up in Bismarck ND. I received my BS in Criminal Justice in 1981 from UND and my MS in Counseling and Guidance from NDSU in 1984. I have been a licensed addiction counselor since 1984 and a registered clinical supervisor since 1987. Currently I also hold a national Master Addiction Counselor certification and I am licensed as a Licensed Professional Clinical Counselor in ND.
I started my career in the addiction field upon graduating from NDSU at United Recovery Center in Grand Forks. I worked there for 10 years as an intervention counselor, primary adolescent counselor and patient care coordinator. I was responsible for the adolescent inpatient and outpatient chemical dependency programs including the family program as well as outreach in many rural schools as an addiction counselor. It was during my time at URC that I became part of the planning committee for establishing an addiction counselor training program in our region and until 2002, I was the coordinator for our addiction training consortium in Grand Forks.
I started employment at Northeast Human Service Center in March 1994 as the primary adolescent addiction counselor providing all adolescent chemical dependency services in the four counties served by NEHSC. In 2000, I was asked to be a part of the statewide planning committee for Juvenile Drug Court and have been associated with JDC locally and statewide since it started in May 2000. I have been a member of the statewide advisory committee and am currently the treatment provider on the statewide JDC training team. I am also a planning committee member for the Midwest Regional Drug Court Professionals Annual Conference as well as presenter at this conference. I am also a member of our local JDC Advisory team and oversee the treatment aspect for our JDC.
In 2002, I became the supervisor for the adolescent chemical dependency unit at NE which included being the clinical director for a residential adolescent chemical dependency program. In 2011, I became the director for the Alcohol and Drug Services Unit which includes supervising both adult and adolescent chemical dependency services/programs in the four county region as well as Adult and Juvenile Drug Court. Currently I am the Assistant Director at NEHSC and Director for the Alcohol and Drug Services Unit.
Since 1984, I have been active in various community and regional committees and coalitions pertaining to Substance Abuse/High Risk Drinking/ Prevention. At this time I am a member of the Substance Abuse Prevention Committee (SAPC), the Community/Campus Coalition for Reducing High Risk Drinking (CCC), and a community coalition addressing the opiod issues facing our community and region.
I have two daughters ages 23 and 21. Annie graduated in December from NDSU with a degree in zoology and is pursuing dental school. Maggie is a junior at UND majoring in psychology. I have been on the BOV since 2013 and find it one of the most rewarding things I have done as it has renewed my gratitude for the education and training I received at NDSU and I have a commitment to helping others achieve their career goals in any way I can. I believe in the mission of NDSU as a land grant university and am so impressed at the growth and continued excellence in not only the education students in HD&E receive, but also the commitment by the staff, faculty, and administration in providing the mentoring and role modeling for students which is so important and reflects so well Bison Pride.
AARON HANSEN
Certified Interior Designer
LHB Inc.
Duluth MN
Aaron Hansen is a native of Esko, Minnesota, and a second-generation Bison. He graduated from NDSU in 1997 with a Bachelor of Science in interior design.
As a Certified Interior Designer for the LHB Education Studio, his primary focus is educational interior designs from early childhood through 12th grade and higher education projects. Clients have included Minnesota state university campuses, Lake Superior College, Bemidji State University, Inver Hills Community College, Pine Technical College, University of Minnesota-Duluth, University of Wisconsin-Superior and University of Wisconsin-River Falls.
Hansen works on individual projects for up to three years from programming to occupancy. He is an important member of LHB's Integrated Design Team, leading the design of environments that support today's teaching and learning trends, technology, trades, safety and security.
He a Certified Interior Designer in Minnesota and a Registered Interior Designer in Wisconsin.
Dedicated to his alma mater, Hansen has been an active member of the NDSU College of Human Development and Education's Board of Visitors for almost a decade. He has participated in scholarship interviews, gave a presentation for interior design students and raised funds through the Bison Bidders Bowl. He also co-wrote "Interior Design Using Autodesk Revit," which is used for study at NDSU.
Hansen is an Advisory Council member at Glensheen, the Historic Condon Estate, in Duluth.
In his free time, Hansen enjoys trail running, biking, fishing and tinkering on antique tractors with his father Ron, who is a 1965 NDSU graduate in agricultural engineering.


Director of Events and Facilities
NDSU Foundation
Fargo ND


Nicole is a North Dakota native and was born and raised in Fargo. She is an North Dakota State graduate with her degree in Hospitality/Tourism Management (2008). During college she was very involved with the NDSU Hospitality Student Association in which she held office as a co-fundraiser and president. Nicole spent 8 years at the Fargo-Moorhead Convention & Visitors Bureau where she began her career in tourism as a sales manager and later promoted to Marketing Director. She has circled back to her bison roots and is proud to be part of the wonderful team at the NDSU Foundation and Alumni Association as the Director of Events and Facilities. In her spare time Nicole loves traveling to new places, remodeling her old home with her husband and taking their two Siberian Huskies for walks in downtown Fargo. Nicole was a 2013 graduate of the United Way: 35 Under 35 Women's Leadership Program.


Strategic Communications Director
Washington State Department of Health
Olympia WA


Danielle (Danny) Kenneweg is the Strategic Communications Director at the Washington State Department of Health. She supervises staff who are accountable for internal and external communication for the state agency. The work of her staff includes media relations, social media, graphic design, video production, external facing web, intranet for agency staff, publication management (print and digital), emergency communication with the public, executive communication, translations, answering the toll free line and email questions from the public. Prior to this position, Danny managed public health staff focused on health promotion and communication for about seven years. She worked in Comprehensive Cancer Control for three years in two states and for CDC as a regional public health advisor to seven state and tribal programs. From 1997-2005, Danny managed the Breast and Cervical Cancer Early Detection Program in North Dakota. Her first public health work focused on improving local coordinated school health programs in collaboration with the state education agency. In her early professional career, she was a Family and Consumer Sciences teacher. She holds a BS degree from NDSU in Home Economics Education and a Masters degree from UND in Public Administration with a certificate in Health Administration. Danny is also a Certified Health Education Specialist.
EILEEN MANBECK KARP
Chairperson, Fashion Design Dept.
Fashion Institute of Technology (FIT-SUNY)
New York City NY 10001



BARRY KUHNKE
General Manager
Lexington Marriott City Center and Residence Inn Lexington City Center
Lexington KY 40507
Barry is the General Manager of the Lexington Marriott City Center & Residence Inn Lexington City Center in Lexington, KY. As General Manager, he is the primary strategic business leader of the properties with responsibility for all aspects of the operation including, guest and employee satisfaction, human resources, financial performance, sales and revenue generation and delivering a return on investments to the management company and owners. He drives implementation of the brands service strategies and brand initiatives with the objective of meeting or exceeding guest expectations, and increasing profit and market share. He is responsible for holding the property leadership team accountable for strategy execution as well as guiding their individual professional development. He ensures that the objectives and goals of Marriott and property owners work together to achieve brand positioning and success. He is also actively involved in the local community and builds strong relationships with local officials, businesses, and customers.
Barry grew up on a dairy farm in rural Bertha, Minnesota and began his hospitality career as a bellman at a resort in Alexandria, MN. He worked in the industry full-time through school and earned a B.S. Degree in Hospitality & Tourism Management from North Dakota State University in 2003. Barry relocated to Minneapolis right after graduation to continue his work in the industry, this was also his start in management. In two years he became a General Manager of his first Marriott hotel, and has been with the Marriott family of brands for the last 13 years. Prior to his relocation to open these hotels in Lexington, KY, Barry was the the General Manager of the TownePlace Suites by Marriott Minneapolis West, the Courtyard by Marriott Fargo/Moorhead, the AC Hotel Cincinnati North at Liberty Center, the Marriott Memphis East, and the Omaha Marriott.
During these years, Barry won the General Manager Service Excellence Award, the General Manager Sales Excellence Award, and multiple Platinum, Gold and Silver awards from the brands for Guest Satisfaction. Additionally, Barry's teams have twice won the Marriott International Quarterly Award for Community Service, as well as 3 consecutive years of raising the most dollars for Children's Miracle Network Hospitals with the Courtyard by Marriott brand.
While attending NDSU, Barry met his wife Courtney, and they were married in 2004. They have been blessed with 5 children: Kalvin, Aubrey, Harlow, Lennon and Westin.
ANN RASMUSSEN
Ann Rasmusson, MD is the Psychiatry Liaison, PTSD Research and Education, at VA Boston Healthcare System, a Research Associate of the VA National Center for PTSD, Women's Health Science Division, and an Associate Professor of Psychiatry at Boston University.
She earned her undergraduate degree at North Dakota State University and MD at the University of Chicago before completing a residency in pediatrics at Johns Hopkins and a neuropsychopharmacology research fellowship and psychiatry residency at Yale University School of Medicine.
Dr. Rasmusson's basic research focused on understanding the role of the amygdala, prefrontal cortex, and hippocampus in coordinating hypothalamic-pituitary-adrenal (HPA) axis, mesoprefrontal cortical monoamine, and behavioral responses to unconditioned and conditioned stress. Her clinical research has contributed to the current expanded view of neurobiological factors that contribute to PTSD risk and stress resilience.
This research has evolved to focus on gender differences in the neurobiology of PTSD and a role for neuroactive steroids and neuropeptides in the pathophysiology and treatment of PTSD and its comorbidities. She is currently a Lead Investigator of a DOD sponsored multisite Phase II investigation of the GABAergic neuroactive steroid ganaxolone in the treatment of PTSD and Principal Investigator on an NIMH study of GABAergic neuroactive steroids in the pathophysiology of PTSD, a VA Merit Review investigating gender-related neurobiological factors that promote refractory nicotine dependence in veterans with PTSD, and the VA RR&D sponsored Translational Center for Traumatic Brain Injury and Stress (TRACTS) investigation of Cognitive Processing Therapy (CPT) efficacy in PTSD with and without TBI. She is the author of 56 peer-reviewed papers, reviews, and chapters and is the mother of one lovely teenage daughter.

KRISTI SALISBURY
dk Foodservice Solutions, LLC
President/Owner
Mendota Heights, MN


Kristi has over thirty years of healthcare nutrition management experience. Her skills are around strategy, maximizing potential in others and a big picture vision. She is a change manager that provides improved outcomes.
Currently, owner and President of dk Foodservice Solutions, LLC, Kristi's desire is to work with foodservice directors to develop their leadership and management skills in the worksite. Her mission is to provide support for today's foodservice director that allows for improved financial performance with a focus on operations.
Kristi's background has been working in the healthcare nutrition services arena as the director of Nutrition in Acute and Long Term Care Facilities. Her focus is to include the entire department staff in improving quality, customer service and financial stewardship for the clients being served.
Kristi's educational background includes a Bachelor of Science degree in Nutrition and dietetics and a business minor. She is a Registered Dietitian and a Certified Dietary Manager.

LOIS SCHNEIDER
Fargo ND


Trained in vocational home economics education, worked in the health/nutrition teacher education in India and North Dakota teacher education at UND; moved into community service and mental health advocacy work and last 18 years before retirement in 2005 in a public policy career as U.S. Senate staff; interests in genealogy and travel.
International Experience:
1968-1970 - Peace Corps, Trichy, Madras, India - health and nutrition education - All Saints Basic Training School and Peace Corps training incoming groupaid 1970
Summer 1967 - Experiment in International Living - NDSU College Ambassador to Tanzania
1963-1964 - International Christian Youth Exchange - Gymnasium student, Klippan, Sweden
Family: Married to John T. Schneider, NDSU graduate 1967 (deceased); two sons, Rocky and Jasper and six grandchildren, all in North Dakota
Education:
M.S. Community Service Education - August 1973 - Cornell University, Ithaca, New York..assistantship in Consumer Economics and Public Policy; graduate teaching assistant
B.S. Vocational Home Economics Education - May 1968 - NDSU, Fargo, North Dakota
Work Experience Awards:
U.S. Senate staff , U.S. Senator Conrad, 1993-2004; state representative/Fargo including casework responsibilities in immigration and State Department
University of North Dakota, faculty - College of Human Resource Development - August 1973-1975 responsible for teacher education and classes in child development; developed courses in teaching the blind and menswear; summer pre-registration counselor, 1975 summer
Southeast Mental Health Center, Children's Services - staff, 1976
Mental Health Association , Executive Director, six area counties - developed workshops & community volunteers, later local advisory board member and State board member, 1977-1980
State Board for Vocational Education - Project Director - developed and implemented three day workshop, Pioneers in Equality, in seven cities across the state for vocational teachers on sex equity regarding Title IX; participants earned university credits 1980-81
Future Homemakers of America (FHA), National trainer - leadership development for state associations; a national FHA officer in high school (reporter)
North Dakota State University , instructor - developed and taught course in leadership development; summer teacher
workshop coordinator and planner - "Increasing Student Awareness of Nontraditional Career Options", NDSU advisory
board at College of Home Economics
Realtor - licensed '76-'86; also employment counselor, placement agency, Denver, summer '72
Women's Political Caucus - presented at national workshop on political stress, a program developed in North Dakota
Community and Campus Activities:
President , Kappa Alpha Theta Alumnae, NDSU; chair antique show '82 ($ to charity); received most improved chapter award at national meeting (1982-84)
President , Phi Upsilon Omicron alumnae, the home economics honorary, NDSU (1984-86)
Board member , NDSU Women - archivist, 2016 - onward
Board of Visitors member , College of Human Development and Education, 2016 -
Commander , Angel Flight Society, NDSU
Program chair , Swedish Cultural Heritage Society, 1984; treasurer , 1990-92
Lobbyist, Mental Health Association, North Dakota legislative sessions, 1983-85
Member , FM Home Economists; Thursday Homemaker Club, ongoing; previously National Women's Political Caucus; Agassiz Women's Political Caucus
Member , Federal Executive Association 1991 - some years
Recognition:
Mental Health Association - State Woman of the Year 1986; Distinguished Service Award, RRV Chapter 1986
Peace Corps award in recognition of "outstanding commitment to community service locally and internationally" honoring "contributions to a more united and peaceful world." 1999
Democratic Women, Fargo - received Fargo Outstanding woman of year award 1987
Phi Upsilon Omicron - community service award 1987
State Appointments/Service:
1985-86 Governor's Employment and Training Forum, representing Women, member
1985-86 Governor's Commission on Children and Adolescents at Risk; chair of subcommittee on emotionally and behaviorally disturbed
1986-87 Chair, State Vocational Council; serving on board to '89 representing Job Training Coordinating Council
1980-86 Board member, Mental Health Association

BROOKE SCHOMMER
Senior Strategic Sourcing Manager



Brooke is a native of Montevideo, MN. She graduated from NDSU in 2002 with a BA in Apparel Textiles, Retail Merchandising with an Art minor. Following graduation, Brooke began working at the Title Company in Fargo as a Post Closing Officer and Escrow Officer. She loved the experience and gained knowledge about real estate that led her to relocate to the Twin Cities in 2004, to work in Corporate Relocation at SIRVA. During her time there, she obtained her real estate license, relocation certification and managed moves for executives from Proctor and Gamble, Boeing, 3M, Potlatch, McKesson and many other companies. She also built 3M's global relocation program which entailed coordinating over 7 services for more than 300 relocating executives at one time. In 2006, Brooke moved to General Electric where she was an Executive Stock Buyer. She was selected from a team of 17 buyers to complete an expatriate assignment in Delhi, India. Brooke spent 2 months preparing for her trip, creating course work and training curriculum, 2 months in India conducting the training and onboarding 10 employees, and a year continuing to manage the process. Following her return from India and successful implementation of the GENPACT team, Brooke accepted a role based out of GE's Schaumburg, IL office as an auditor, while still being located in MN. Brooke audited dealerships for companies that sell Polaris, Artic Cat, Ski-Doo, Bobcat, Yamaha and many other brands. After a year in that role, Brooke was promoted and relocated to the Schaumburg office where she worked as an account manager for the Briggs and Stratton account.
In 2012, Brooke relocated back to Minneapolis to work for Target Corporation in Indirect Procurement as an operations manager, leading teams in both the US and India. A year later she was promoted to a Strategic Sourcing Lead and was responsible for the negotiation and strategy for over $600M per year in spend for categories including: salvage, regulatory and compliance programs, and store services for the entire Target chain.
Brooke also got involved in professional groups and created the NDSU Alumni forum at Target Corporation, which facilitated activities and networking opportunities for NDSU alumni at Target. During this time, Brooke discovered that Target was not recruiting from NDSU other than for pharmacy, but with a high alumni rate moving to Minneapolis post-graduation, this did not make sense. Brooke worked with HR at Target to change this decision and now is part of the recruiting schedule. Brooke is also very passionate about students understanding the various opportunities they have after graduation, particularly in the retail space and has worked with NDSU to conduct tours and learning sessions for students to get a broad spectrum of options post-graduation. While making connections with Target team members and NDSU, Brooke discovered an opportunity to assist NDSU even further by getting professors from NDSU on the Target symposium which brings faculty to the HQ campus and teaches them what skills they expect for various design and merchandising roles post-graduation, giving NDSU even more tools to develop students for successful careers.
In October of 2017, Brooke accepted a role at Asurion in Nashville, TN as a Senior Strategic Sourcing Manager. Brooke is responsible for strategy and negotiation of contracts for the marketing, finance, legal and HR departments. Brooke leads teams in both the US and the Philippines and is looking forward to traveling there later in 2018.
In her free time, Brooke enjoys traveling, cycling, reading, cooking, photography and spending time with family and friends. She loves the foodie scene and enjoys discovering new restaurants. Brooke also enjoys spending time with her sister, brother-in-law, nephew and niece in Minot, where she attends the North Dakota State fair annually. Brooke is grateful for the work she has been able to do with NDSU as it has been one of the most rewarding experiences of her career, and was given an opportunity to give back even more by being invited to serve on the HD&E Board of Visitors in 2014; she is still active on the board.
KACIE SCHULZ
Financial Advisor



Kacie Schulz received her bachelor of arts degree from Concordia College in 2008 and completed the graduate certificate in family financial planning from NDSU in 2017. She currently works at Merrill Lynch as a financial advisor and resides with her family in West Fargo. Kacie also serves on the Women's Ministry Team at Hope Lutheran Church in Fargo and is a member of the FM Area Foundation Development Committee.
DEB SEMINARY
Bismarck ND


Deb Seminary graduated in 1982 with a BS in Food and Nutrition, a Hotel, Motel Restaurant Management Minor and almost a Communications Minor. She worked in the hospitality industry for several years then became very successful in radio advertising sales, which led to management.

After the stations were sold, Seminary took the opportunity to become a self employed marketing consultant. Her clients created many circumstances to learn new things, including video production, event planning, website development and social media implementation.

In 2008 she became the Editor of Inspired Woman Magazine. Besides writing articles, developing an online presence and selling ads, she created an annual fashion show, which became a successful Girls Night Out/Fundraiser.

One of her goals was to work on a political campaign, and in 2015 she was hired as Communications Manager for Senator John Hoeven's successful 2016 re-election campaign. She is currently a Senior Account Executive at Odney, the Executive Director of DisruptWell Summit, and enjoys volunteering with many local causes in Bismarck.

PEGGI TOBIAS, SPHR
Vice President Early Careers and Onboarding
UnitedHealthcare
Hopkins MN
Peggi graduated from NDSU with a degree in Food and Nutrition and went on to become a Registered Dietitian. She worked for Marriott Management Services at United Hospital in St. Paul before moving on to Alliant Foodservice (now US Foods). At Alliant, Peggi was a buyer for nutritional supplements, as well as bulk food distributed to various foodservice establishments. Toward the end of her tenure there, she led the marketing efforts for the company and created a training and development program for their sales staff. This was the first step in her now 20+ year "accidental HR" career.
After leaving Alliant, Peggi moved to Target Headquarters where her team was responsible for the training and development of Marshall Field's store team members, as well as the early career merchandising teams across the Marshall Field's and Target. She spent several years in the Talent Acquisition space, leading recruitment efforts and the Strategy and Operations function, before moving on to help create the enterprise-wide Talent Management function.
In 2014, Peggi joined UnitedHealthcare in a Talent Strategy role, providing central oversight and management of talent plans for the top two levels and critical roles across UHC. Today, Peggi's team is responsible for early career strategies to bring in talent from colleges campuses and deliver intern programming. In addition, they focus on the onboarding process for all of UnitedHealthcare to engage new employees in the mission and culture of the company.
Peggi lives in Burnsville, MN with her husband Mike (Toby) Tobias and daughter Emma. She is a proud "dance mom" and also enjoys spending outdoors and crafting.

BECKY WALEN, AFC, CFP
SVP, Senior Wealth Management Advisor
Bell Bank Wealth Management
Fargo ND
Originally from Elk River, MN, Becky has lived in Fargo with her family since 2004. As a senior wealth management advisor and financial planning director for Bell Bank, she leads a team of CERTIFIED FINANCIAL PLANNER™ professionals in helping high net worth households to develop personal financial plans, including investment management, retirement, and philanthropy. In addition, Becky consults with institutional clients of the bank regarding investment management, financial policies, and donor education. She's a member of the Assoc. for Financial Counseling and Planning Education, Financial Planning Association of MN, and Red River Valley Estate Planning Council. Becky is a graduate of the United Way 35 Under 35, Center for Technology and Business Women's Leadership Program, and Prairie Business 40 Under 40. Having a pay it forward focus, Becky has volunteered on a number of boards in the community and currently serves as past president of the Fargo Public Schools Foundation.
Becky earned a Master of Science in Financial Planning at NDSU through the Great Plains I.D.E.A. She also has a BS in Management from the University of Mary and holds the Accredited Financial Counselor (AFC®) and Certified Financial Planner (CFP®) designations. In addition to her involvement in the NDSU College of Human Sciences and Education, she also serves as a mentor in the NDSU College of Business and its Transportation, Logistics, and Finance Advisory Group.
When away from the office, Becky enjoys time outdoors or over the cribbage board with her husband, children, and Scottish Terrier mix. She's also a lifelong learner and reader, always looking to absorb more through a good book or podcast.