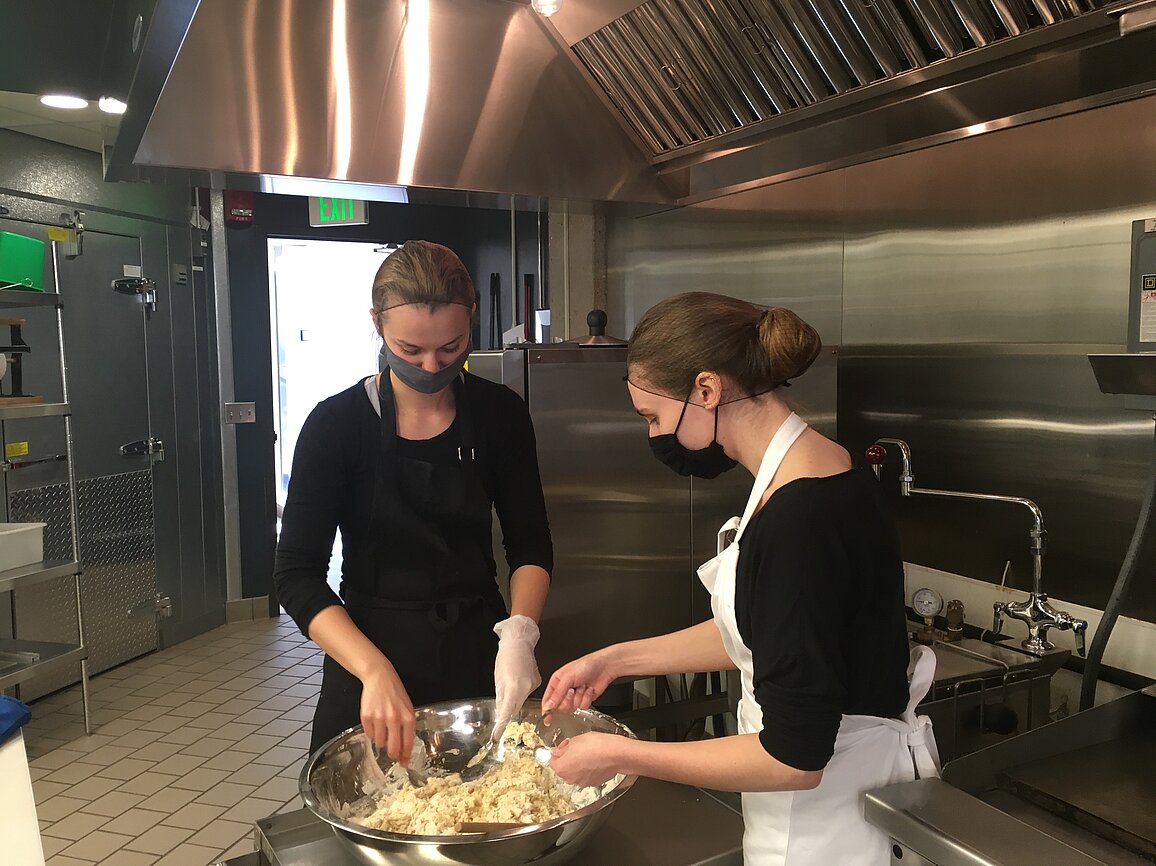 Healthful to-go meals being made by students at The 800 Café
The 800 Café is led by students studying dietetics at NDSU. Students create healthful, three-course, artisan meals that are under 800 calories. Meals range from different cuisines such as Mediterranean, Italian, Asian, Mexican and twists on some American favorites.
The café is instructed by Sherri Nordstrom Stastny, professor of health, nutrition and exercise sciences.
"The 800 Café experience affords students the opportunity to gain leadership skills by planning, managing, and marketing a 'real-life' restaurant," says Stastny. "Students need to problem-solve and make quick decisions as part of their coordination of the week they manage. Each student takes a turn as manager, and groups of two or three participate in the planning stages, where they can practice negotiation skills. Students also gain experience working with nutrition software to analyze recipes for all macronutrients, plus energy and key micronutrients."
The public can enjoy fresh meals from the café most Thursdays and Fridays while school is in session, beginning March 4 and ending April 23. Meals may be picked up on campus in FLC 312 beginning at 11 a.m. and ending at 12:15 p.m.
During the semester, you can expect to see meals like Zesty Quinoa Salad, Black Bean Burrito Bowl with Cilantro Lime Rice, Roasted Peppers and Onions, Mango Salsa and Guacamole, Lemon Herb Romaine Salad with Chicken and Black Beans, Zuppa Toscana, Asian Side Salad and Grilled Pineapple Skewers with a Honey Dipping Sauce. The full menu can be found online.
Meals cost $10 per person or four meals can be purchased for $35. Payments can be made in the form of cash or check at the door when picking up your meal. Reservations can be made online.
With limited meals available, reservations are preferred but walk-ups are welcomed. Social distancing and face coverings are required.
When making a reservation, indicate your planned pickup time, number of attendees, email and phone number of the person who oversees the reservation. In addition, include any allergies of the attendees, as they will be honored if indicated when making your reservation.
Online reservations are preferred, but reservations also can be made by contacting the Department of Health, Nutrition and Exercise Sciences at nancy.moberg@ndsu.edu or by calling 701-231-7474.
Parking is available in the visitor's pay lot on the south side of the Memorial Union.
HSE professor honored by Great Plains IDEA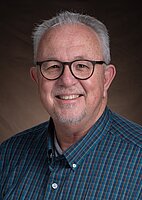 Jim Deal, professor of human development and education, has been recognized with the 2021 Faculty Excellence Award from Great Plains Interactive Distance Education Alliance. The honor, presented March 2 during the organization's annual meeting, acknowledges Deal's teaching methods in the family financial planning graduate degree program offered together online by seven universities.
Deal is a member of the online program's faculty. Along with teaching, he has served as the program's faculty coordinator, providing leadership in the program by preparing annual reports and overseeing course and program assessment.
"Great Plains IDEA is such an innovative concept, and the family financial planning faculty are all absolutely wonderful to work with. Being recognized for being a part of both is just a tremendous honor," Deal said.
Deal is a long-standing member of the Great Plains IDEA family financial planning program and has been instrumental in its success. "He has been a faculty member who promotes meaningful learning and adherence to identified competencies; a faculty leader who contributes to course planning, assessment and reporting; and a faculty colleague who approaches all of these duties with calm, thoughtfulness, and respect," said Sissy Osteen, associate professor and department head at Oklahoma State University.
"One thing that stands out about Dr. Deal with relation to the family financial planning program is his generosity and mentorship," said Jill Nelson, interim dean and professor, NDSU college of human sciences and education.
Deal joined the NDSU faculty in 1993. He earned his bachelor's degree at Georgia Southern College and master's degree and doctorate in child and family development at the University of Georgia.