DRIVE FOR 5
Albers's love of the outdoors led him to study wildlife management
Published January 2016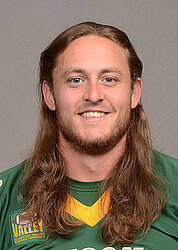 Luke Albers was about 5 years old when he watched his biologist grandfather and an uncle from the Wisconsin Department of Natural Resources pull hibernating black bears from their dens. It was for a scientific study, and the boy was close to the action as the large animals were weighed, measured, fitted with tracking devices and carefully placed back in their homes.
Albers's heart raced. His pulse quickened. His future was set. His passion for the outdoors and wildlife led him to enroll as a fisheries and wildlife management major at NDSU. He graduated in December and plans to begin his career following the Football Championship Subdivision national championship football game on Jan. 9 in Frisco, Texas. He is a tight end on the football team.
Albers has always loved the outdoors. NDSU provided a love of scientific study. "I really enjoyed learning the research side," he said. "I love being out in the field, but I also love sitting down and reading a bunch of scientific journals to enhance my knowledge of my field of study."
Small class sizes and knowledgeable, caring professors gave Albers the tools to succeed when football is finished and his career begins. "NDSU taught me everything I needed to know," Albers said. "And because we are a research university, there is a lot of emphasis on doing things the correct way."
Juggling football and academics was a challenge at first. But Albers formed good habits early in his freshman year with the help of NDSU tutors and mentors. "You definitely have to learn good time management," he said. "Once you get used to it, it becomes second nature. People at NDSU do everything they can possibly do to help students thrive."
Albers, who graduated with a criminal justice minor, hopes to work with the Department of Natural Resources. His dream job is to work as a federal officer for the United States Fish and Wildlife Service.