ALUMNI
Alumni lead 'Echoes of 9/11' event
Published September 2016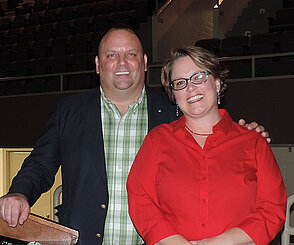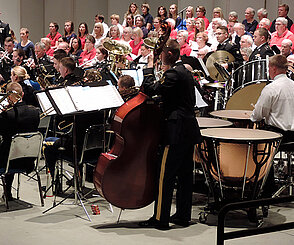 NDSU alumni helped organize an emotional musical memorial and tribute to the victims and heroes of Sept. 11, 2001. "Echoes of 9/11" was held Sept. 10, in Rochester, Minnesota, at the Mayo Civic Center Auditorium.
Jodi (Anderson) Melius, BS '93, leisure studies and recreation, chaired the planning committee. As the 15th anniversary of the attack on New York's Twin Towers neared, she felt something special was needed.
"As most of us do, I remember exactly where I was and what I was doing on Sept. 11, 2001. I have friends who were later deployed as a consequence of the events of that fateful day," Melius said. "We must never forget; we must stand up against hate and support our communities and neighbors."
Melius sings in the Rochester Symphony Chorale and is a board member for the Rochester Symphony Orchestra and Chorale. The chorale, in collaboration with the Minnesota Army National Guard's 34th Infantry Division "Red Bull" Band, presented the two-hour musical remembrance. The band is commanded by NDSU alumnus David Stordalen, BS '93, music education.
"Echoes of 9/11" featured more than 100 singers and a 50-piece band. A special tribute to first responders was included and a number of dignitaries attended.
"We joined forces to make music in remembrance of that tragic day. We remembered the pain and the anguish, and celebrated the courageous souls who ran to the scene in an attempt to save lives," Stordalen said. "And we remembered the thousands of military and civil uniformed men and women who have worked tirelessly since 9/11 to keep America safe."
Stordalen, who lives in St. James, Minnesota, and Melius renewed their collegiate friendship when Melius' family moved to Rochester. They wanted to work together to produce a concert similar to ones they enjoyed at NDSU – a 9/11 memorial event was the perfect opportunity.
"We have many wonderful memories of creating beautiful music together in the Concert Choir and Madrigal Singers under the direction of Dr. JoAnn Miller at NDSU. David went on to also play in the Concert and Jazz Bands," Melius said. "Because of social media, David and many of our old NDSU music alumni and friends have been able to re-connect."
The concert included patriotic songs such as "The Star Spangled Banner," "Liberty Fanfare," "Flanders Field" and "A Hymn for the Lost and the Living." Thomas Jefferson's powerful "The Testament of Freedom" was read to the audience. Following remarks by Stordalen, taps were played. The moving event ended with "Hymn to the Fallen" and "The Stars and Stripes Forever."
"My hope is the music and program brought honor to the memories of those lost, and hope for the future for those living," Melius said. "I hope we will work to find common ground, that we can find our human connection in community and our promise in one another, and that we never forget."
Other NDSU alumni also participated. Meredith Kuntz, BA '13, history, is a member of the symphony staff and provided support in the planning of "Echoes of 9/11." Katherine (Schulz) Mortenson, BS '15, emergency management, sings in the chorale.