INSPIRING TEACHER
Angela Hodgson, associate professor of practice Department of Biological Sciences
Published November 2016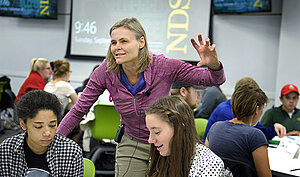 Angela Hodgson is known as a caring instructor dedicated to her students. She has taught the introductory biology series for the past seven years. She also coordinates the general biology labs, and she has developed two new courses – Antibiotic Discovery: An Undergraduate Research Experience and Principles of Biology Research and Writing.
Hodgson is now in her eighth year on the NDSU faculty. She earned her bachelor's degree at the University of Minnesota, her master's degree in conservation biology from the University of Nevada, Reno, and her doctorate in ecology at the University of Minnesota.
How did you decide to pursue your profession?
I originally did not intend to pursue teaching as a profession. I earned a master's degree in conservation biology and worked six years as a wildlife biologist. I then returned to graduate school to pursue my Ph.D. so I could continue to advance in this field. While completing the requirements for the degree, I got my first opportunity to teach, and I fell in love with it.
What do you like best about teaching?
The students! They bring so much energy to my job. I love when I can get them interested in some aspect of biology and they begin to ask the most amazing questions. I also love that I have a job where I get to continue to learn new things every day.
What drives you to excel as an instructor?
I am really passionate about providing an opportunity for every student to succeed. If I can be a small part of helping someone achieve their goals and dreams, that is really fulfilling.
What is the best thing about your job?
Being able to come to work every day and be surrounded by students and colleagues who are interested and excited about learning new things and advancing our understanding of science. I loved school when I was a student, and with this job I never have to leave that environment.
How would you describe your teaching style?
Active and intentional. Before I start a class, I come up with a list of skills that I would like my students to have when they leave my class. In class, I do whatever I think that it will take for the students to master those skills. We work on a lot of problems in class that I have designed to help students build their skills. Sometimes students are working on those individually, sometimes in small groups, sometimes they are working on the whiteboards – and there is always a lot of discussion.
How do you connect with students?
Students say that they like my enthusiasm, so I guess that helps. I am genuinely interested in every student in my class, so I try my best to make sure that every student understands that.
What are the most common traits of successful students?
The most successful students come to class with a good attitude. They are excited about trying to learn something new every day and have the determination and perseverance to do the hard work it takes to be successful.
What has been the best moment of your teaching career so far?
Some of the best moments are when students tell me they got excited or interested in something we talked about in class, that they went home and talked about it with their family and friends. It is so great to hear from students who find connections between what we talk about in class and their daily lives.
What is something every student should experience before they graduate from NDSU?
Every student should attend one of the cultural or artistic events that are held on campus. I have seen amazing plays and musical performances, and met people and learned about cultures from all over the world.
What makes NDSU a special place?
There is a "can do" attitude here. Despite obstacles, like the weather, we find a way to achieve our goals.
What is your favorite NDSU tradition?
The Homecoming parade.