STUDENT FOCUSED
Area business professionals mentor NDSU students
Published November 2016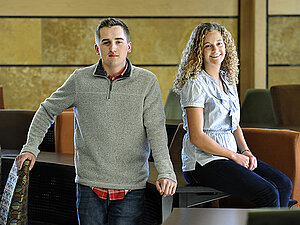 College of Business students can build relationships with business professionals in Fargo thanks to a new mentorship program.
Faculty members Nancy Emerson, Paul Brown and advisor Tayt Rinehardt launched the program last spring. Sophomores applied to be paired with professionals for a semester to learn about careers, industries and day-to-day job responsibilities. It's the kind of program that helps NDSU students successfully compete in the workforce. By meeting with professionals, students are able to use and expand their knowledge from the classroom as they plan their careers.
Students initiated contact with their professionals and set the agenda for meetings. They met at local coffee shops or at their mentors' offices. They job shadowed, asked questions and met other members of the organizations.
"It was very beneficial," said Lexie Weber, a business management major who was part of initial group of students to go through the program. "I was able to ask personal and career questions, and my mentor adapted things to my interests."
Weber is still considering career options, but says the mentorship program helped. She was paired with a human resources professional and thinks she would like that career path. Weber enjoyed seeing her mentor conduct job satisfaction and employee retention research.
"I really like the people aspect of human resources and helping employees feel valued," Weber said.
Sam Schroeder, a business administration major, was also part of the first group of students to complete the program. He, too, is not quite decided on his career path, but his director of finance mentor taught him a lot. Schroeder felt comfortable asking questions and was given insight on what it is like to have a successful career.
"I asked, 'What advice would you give someone my age?' and he said to set goals, make a plan and go after them," said Schroeder. "A lot of people my age struggle when it comes to making decisions on their future careers."
Weber and Schroeder still keep in contact with their mentors and are excited to move forward in their NDSU education.
"I'm even more proud to be part of NDSU because of the program," said Weber. "Employers want to hire NDSU graduates."