STUDENT FOCUSED
English professor talks about being a first-generation college student
Published September 2017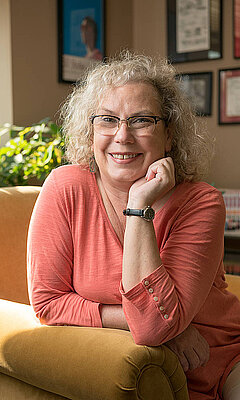 Betsy Birmingham, professor and chair of the English department, clearly remembers when she got serious about earning a college degree.
She was a 21-year-old single mother living with her parents and working as a waitress. She had completed a semester of college right after high school and had taken some community college and correspondence classes. But she didn't know what she wanted to study or what kind of career she wanted to pursue. She was content working and raising her child.
An innocent question changed that one afternoon. Birmingham was waiting tables at the local cafe and her 3-year-old daughter sat in a booth coloring.
"Caity, what do you want to be when you grow up?" a customer asked the child.
"A waitress, like my mom," she said.
Birmingham blanched. "I hadn't thought of myself being a role model for my own child," she said. "I saw myself offering her possibilities, not life as a single mom at 18. I was like, 'this is fine for me, but I don't want this for my child.'"
It was time to do something different. Trying college again seemed like the way to go.
Entering the unfamiliar world of college
Birmingham was a traditional 18-year-old student the first time she went to college. But she struggled to adapt and dropped out after the first semester.
One of her challenges was not knowing what to expect. She was a first-generation college student, which means neither of her parents went to college. They fully supported her, but they couldn't use their own experiences to help her navigate her new world.
She assumed, for example, that books were provided as they had been in high school and was embarrassed when she learned, in class, that she had to purchase them. Then she had to figure out where to buy them and find money to pay for them.
When her grandma died during her first semester, she disappeared the week of mid-term exams to be with her family. "I didn't think it was unreasonable to be gone for a week, but my professors felt differently," she said. "I didn't know how to deal with that kind of stuff."
When she went to college the second time, she was more mature and more motivated to succeed. But she was still unsure of so much.
She chose Dominican University in Chicago simply because she had a reference point. Her aunt and godmother earned a bachelor's and advanced degree there. Her aunt also lived in Chicago and invited Birmingham and her daughter to live with her. That connection made it easier for Birmingham to leave her family and start new life in large city.
"I think that is pretty typical of first-generation students," she said.
Finding her way
The second time around, Birmingham had the added challenge of being a non-traditional student with a child to support and raise. She learned to pack in work and classes while Caity was at school and then to do her homework and study once her daughter was in bed. She made a point to finish in three years rather than the typical four to save money and to go to work full-time more quickly.
She still didn't know what kind of career would suit her, so she chose home economics because she had some experience with cooking and sewing. That decision led her to a required class where she discovered what she really wanted to do – art history.
Birmingham's confidence grew as she found her academic interests, earned good grades and successfully navigated college life.
A key to her success was building relationships with her professors. One of them hired her to be the English department secretary, a good paying job that allowed her to stay on campus. She was better able to balance her class and work schedule, and she didn't have to find transportation to an off-campus job.
Other professors recognized her potential to work in academia and encouraged her to go to graduate school—a career path that she would not have considered on her own. "They showed they cared about students in everything they did," she said.
Birmingham earned bachelor's degrees in literature and art history, a master's degree in creative writing and a doctorate in rhetoric and professional communication with a specialization in architectural history, theory and criticism. She has worked at NDSU since 2001, teaching more than 18 different English and gender studies classes and serving as the associate dean of her college for several years. She is currently chair of the English department.
Teaching first-generation students
Birmingham has now spent most of her adult life in higher education, but she hasn't forgotten what it feels like to be a first-generation, non-traditional student. She is better able to recognize when students can benefit from a little extra encouragement and guidance. "I am more aware of things I need to walk students through," she said.
She also remembers how her professors recognized her strengths and helped her see how she could apply them. As a teacher, she believes it is important to help her students recognize their talents and skills and think about how to articulate them to potential employers, graduate schools and other people or entities they will be involved with in the future.
Her No. 1 piece of advice to students? Get to know your professors and make sure they know who you are. Strong connections and open communication are an important part of having a rich educational experience. "Trust your teachers care when they give you feedback," she said. "It's to help you."
Continuing to be a role model
More than 30 years have passed since Birmingham's "aha" moment in the café. In addition to her professional achievements, her family of two has grown to a family of seven.
The little girl who colored in the booth grew up to love the arts. She studied art and English in college and then pursued a master of fine arts in film production. She lives in Los Angeles, working as a production designer for film and television projects.
And she grew up to deeply admire how her mother lives her life, as she expressed in an online Mother's Day tribute: "She's an English professor, chair of her department, smart and amazing, nurturing and good hearted, and mom to five great weirdos, not to mention her students and all the others who consider her a little bit their mom, too."