COMMENCEMENT
Commencement to be held at new athletic complex
Published December 2016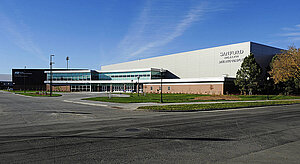 NDSU's winter commencement ceremony will be held at the new Sanford Health Athletic Complex, or the SHAC, on Friday, Dec. 16, at 2 p.m.
The event will have the distinction of being held in new structure, which is considered one of the finest athletic facilities in the nation among institutions of NDSU's size.
"The opportunity to celebrate our graduates' academic achievements in the Sanford Health Athletic Complex highlights the many accomplishments NDSU continues to see, both in the classroom and across campus. Our community can take pride in the education our students receive and this remarkable facility – both are incredible," said Jackie Schluchter, associate registrar.
More than 1,000 students are eligible to participate in the ceremony, with more than 500 planning to take part.
The architect behind the complex is NDSU alumnus Terry Stroh, principal and founder of T.L. Stroh Architects. "We hope everybody enjoys the space. We are really pleased with how it turned out," he said. "I couldn't be happier, and we are super proud of it. We think the building will be an asset to NDSU for many years to come."
Building facts
Opened: Nov. 2, 2016
Cost: $50 million
Seats: Approximately 5,700
Construction: April 2014 to October 2016