STUDENT FOCUSED
Competition strengthens students' ability to communicate research
Published January 2018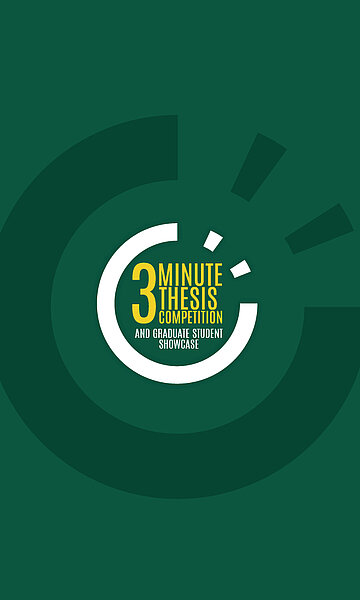 Surveys suggest most people's worst fear is public speaking. But graduate students at North Dakota State University know a few nerve-racking moments now can pay off later during a job search.
The students are competitors in NDSU's annual Three Minute Thesis Competition, hosted by the College of Graduate and Interdisciplinary Studies. The students' objective is to explain their groundbreaking research in everyday language under a strict time limit.
Australia's University of Queensland developed the first Three Minute Thesis competition in 2008, and the concept has spread to more than 600 universities in 63 countries.
Condensing years of complicated and time-consuming research into a short timeframe is a tough thing to do, but going over three minutes means disqualification. And they need to do it without notes.
A major benefit to the students, beyond cash prizes, is the hours of preparation. It will give students an advantage during a job search. Human resources personnel or agency administrators often don't know the intricacies of research, and many interviews require a short presentation. The competition helps make a student more marketable.
"Many of our students conduct research on complex topics. Talking about their work in ways an average person can understand helps them connect better during the hiring process," said event organizer Brandy Randall, associate dean of the College of Graduate and Interdisciplinary Studies. "Talking with strangers can be an intimidating, scary thing. But public speaking in a high-pressure situation prepares people like really nothing else can."
On top of that, skill in communication is often key after a researcher is hired. "Graduates will work with people from a variety of fields, who may have expertise in engineering, chemistry or sociology. They all need to work together in a productive way," Randall said. "To do that, they have to understand each other."
Last year's winner, Tayebeh Anajafi Marzijarani, is a great example of how the competition sets the stage for success. Her presentation, titled "Targeted Drug Delivery in Pancreatic Cancer," focused on her research on chemotherapy delivery systems that target cancer cells without being toxic to healthy cells.
After earning her doctorate in pharmaceutical sciences from NDSU, Marzijarani is now a method development and validation scientist for Eurofins Bioanalytical Services of St. Charles, Missouri.
"Conveying the scientific importance of our research topics and showing enthusiasm are great skills that help in our job-hunting journeys," she said of the competition. "Those skills definitely assist us to stand out among other candidates."
Marzijarani's advice is to demystify the research and display a passion for the topic.
Those thoughts are taken seriously by Breanne Steffan, an NDSU doctoral student in microbiological sciences who will be one of the competitors.
"One of the most important aspects of research is the ability to share your findings in a way that is understandable for those who aren't in your field," said Steffan, who is from Fargo.
Steffan is researching the interaction of the Aspergillus fumigatus mold, Pseudomonas aeruginosa bacterium and the host's immune response, and how they contribute to the severity of childhood respiratory diseases, such as asthma and cystic fibrosis.
"A big problem in today's society is the lack of trust and understanding by the general public about the current research being done. This competition helps bridge that gap between research at NDSU and the F-M community," Steffan said. "My Three Minute Thesis experience will show my future employer that not only do I know how to make my research understandable to a lay population, but I also care enough to make that connection."
This year's competition, sponsored by Sanford Health, is scheduled for Thursday, Feb. 22. Preliminary rounds are set for 10 a.m. and 11 a.m., with the finals at 2 p.m. in NDSU's Memorial Union.
The Three Minute Thesis event will be held in conjunction with NDSU's Graduate Student Showcase on the same day. Student research displays will be set up from 9 a.m. to 4 p.m. in the Memorial Union Ballroom.
Both events are free and open to the public. For more information, visit www.ndsu.edu/gradschool/current_students/3mt/.