ALUMNI
David Schindler devotes career to protecting lakes
Published April 2016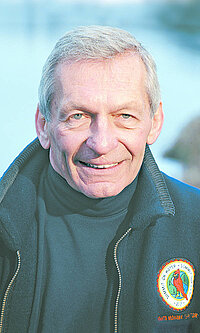 David Schindler developed his affinity for lakes as a boy growing up on a farm near Barnesville, Minnesota.
He graduated from NDSU in 1962 with a degree in zoology and earned his doctorate in aquatic ecology at Oxford University, where he was a Rhodes scholar.
Schindler is known worldwide for his efforts to protect fresh water resources in Canada. He's received 20 prestigious international awards, including his field's equivalents to the Nobel Prize: the first Stockholm Water Prize, the Volvo International Environment Prize and the Tyler Prize for Environmental Achievement.
He was awarded two of Canada's highest honors. Schindler received the Gerhard Herzberg Gold Medal for Science and Engineering, and was appointed an Officer of the Order of Canada. He's a fellow of the Royal Society of London and a member of the U.S. National Academy of Sciences, due to his dual citizenship.
Lives: North of Radium Hot Springs, British Columbia, Canada
Tell us about your work. I am now fully retired, but still writing science papers (I guess it is a disease). I also have a book almost finished on the Experimental Lakes, my fourth.
What is your typical day? I do science in the morning and go fishing, hiking or work wood in the afternoon most days.
What is one of the most exciting things about your work? The fact that I have been able to change the way people think about the environment and to persuade politicians to change policies to protect the environment.
How have NDSU mentors influenced you? Limnology professor Gabe Comita was one of my most important mentors. He convinced me to change from engineering physics at the University of Minnesota to zoology at NDSU, and gave me the confidence that I could do science equal to the very best.
What is one of your favorite memories of NDSU? Working summers and evenings in professor Comita's lab. I was not very rich and needed the extra money. Wrestling at noon with then trainer and wrestling coach Tom Neuberger, who taught me the value of lifetime physical discipline.
What are you passionate about? The environment and protecting it. On a smaller scale, fishing, hunting and protecting the rights of indigenous people.
What advice would you give your 25-year-old self or an NDSU student studying in your field? Never doubt that you can do it. The most valuable gift you have is the one between your ears, and like the rest of your body, can be developed to do things you will never believe are possible. Listen a lot and do not waste your time on trivia.