NATIONAL CHAMPIONSHIP
Tre Dempsey talks academics, family and football gloves
Published January 2018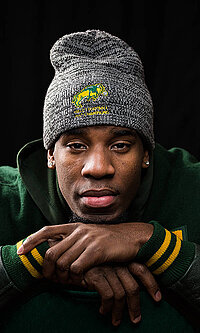 Tre Dempsey came to NDSU to study business and play football. Then he discovered two things:
He didn't want to work in an office.
Religion as an academic subject.
Dempsey is the son of a pastor and grew up in a spiritual household. At NDSU, he discovered the opportunity to study religion from an academic perspective. He pursued his academic interest, majoring in philosophy and graduating in December with his bachelor's degree.
In the future, he wants to play professional football. He also wants to pass on what he's learned as a motivational speaker. He wants to help people succeed.
But first the senior safety will look to help the NDSU football team earn a sixth Football Championship Subdivision national championship. The Bison are scheduled to play defending-champion James Madison on Saturday, Jan. 6, at 11 a.m., in Frisco, Texas.
The following are some of Dempsey's thoughts on NDSU, academics, athletics, family and more:
WHAT IS YOUR HOMETOWN?
Lakeland, Florida.
WHY DID YOU PICK NDSU?
NDSU was the school that recruited me that had the best football tradition and the best coaches. I didn't know what I wanted to go to school for, but I knew NDSU had a great business school. That's why I initially chose business.
WHAT ACHIEVEMENTS FROM YOUR TIME IN COLLEGE MAKE YOU THE MOST PROUD?
I don't really think much about achievements. I'm very focused on the future, and on reaching other goals in my life. I never really took time to sit back and take a look at what I've been able to do because I'm looking forward. I always think about what I can reach next and what I can do better.
But I'm most proud of the person I've become while I was here, rather than the achievements I've accomplished.
WHEN YOU THINK ABOUT YOUR FIRST DAY OF CLASS AT NDSU AND WHERE YOU ARE NOW, HOW HAVE YOU CHANGED?
I'm a much different person than that first day. Being here has allowed me to adapt to many different people and cultures. Growing up in Florida, I was surrounded by a lot of people just like me. Fargo is much different. I learned about a whole new world and I feel like it prepared me to go wherever I'm going after graduation.
HOW DID THE TRADITION OF GIVING YOUR GAME-USED GLOVES TO A FAN START? WHY DID YOU KEEP IT GOING?
I did it in Frisco in 2015 after we won the national championship. The kid was geeked. I didn't realize it at the time. I took a picture with him and kept that picture. The next year, I was walking in the tunnel one time and a kid was yelling my name. He asked for a glove, and I gave them to him and signed them. I started getting comments on Twitter about how I made that kid's year and that NDSU and I will have a fan for life. That's a special feeling. Now, I give them away any time someone asks.
HOW HAS YOUR PARENTS' MOVE TO FARGO FOR YOUR SENIOR YEAR IMPACTED YOU?
My dad came to all my home games this year, and both my parents were here for graduation. They didn't have to spend all that money to visit. I get some good home cooking, which I love the most. I can go see my mom whenever I want, and I really missed that. I was ready to get away when I left high school. Now I want to see them as much as I can. It's been a great year.
WHAT IMPACT HAS NDSU HAD ON YOUR LIFE?
It's made me who I am today. It's given me the mindset I take to every situation, and taught me how to handle adversity. As soon as I came here, it was a brotherhood with my teammates. They took us in as little brothers and that's what the culture at NDSU is all about.