INSPIRING TEACHER
Elizabeth Hilliard, associate professor and dietetics program coordinator
Published January 2019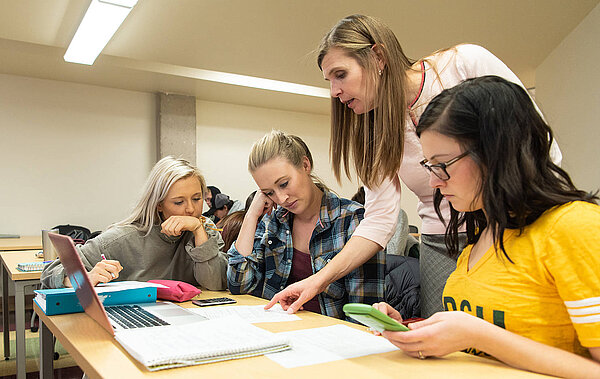 Elizabeth Hilliard teaches in NDSU's College of Human Development and Education. Her dietetics students work on hands-on projects like personal nutrition blogs and case studies. Hilliard brings energy and humor in the classroom, and she ensures her students understand how course material fits into their everyday life and future career.
Hilliard earned a bachelor's degree in applied health science from Indiana University, master's in nutrition from East Carolina University and her exercise science and nutrition doctorate from NDSU.
How did you decide to pursue your profession?
I like food. I wanted to study science and math in college, but realized I didn't want to be a chemistry major. My adviser mentioned dietetics, and since I like food, I went with it.
What do you like best about teaching?
The "a-ha" moment. The moment when students understand the concepts they are learning and how they apply in life.
What's the biggest obstacle you've had to overcome as a teacher?
My fear of public speaking.
What has been the best moment of your teaching career so far?
When I was nominated for and won the student-driven College of Human Development and Education Outstanding Teacher Award.
What have you learned from your students?
I learn from my students all of the time. I have learned that some of them are very torn between helping their families on the farm and trying get through school. I have learned that some of them are first-time college students and are juggling the stress of putting themselves through school. I have seen some who are so motivated that they literally pack up and move to go to NDSU. These hard-working students inspire me. I want to give more to them because they are giving so much to go to school.
How have you grown as a teacher over time?
I have become more confident teaching my students. I am much more flexible in my teaching style than I used to be. I am also more relaxed, which I think puts my students at ease and allows for more class participation.
What is your favorite NDSU tradition?
Our commencement ceremony.