STUDENT FOCUSED
First-generation student tells about her transition to college
Published August 2017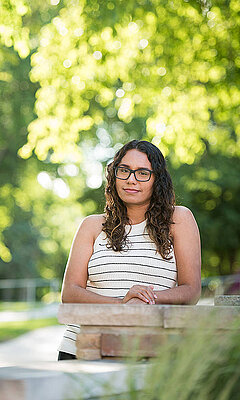 Annette Ruiz knows what it's like to feel like she's the only one. The only one in her family to go to college. The only one to move to Fargo. The only one who doesn't have everything figured out.
However, her time at NDSU has softened those feelings. Interactions with NDSU professors and peers, classroom accomplishments and time in student organizations helped Ruiz realize she's not the only one—not the only first generation college student and not the only person who thought college was for someone else. She has met people with similar experiences and people to help and encourage her along the way. She realizes that she's supposed to be here, that she has something to offer and that she, in fact, is not the only one.
Ruiz moved to Anoka, Minnesota, from Texas after her mother died. She was 12 years old. She lived with her sister and worked throughout high school to support herself and her family. This meant late nights doing homework and early mornings helping her nieces. College was the last thing on her mind.
"I come from an unstable family where finances are always an issue," Ruiz said. "I thought after high school, I needed to make money to help pay bills for my family."
A high school counselor encouraged Ruiz to think about college and even took a few students to tour NDSU. It was an emotional four-hour car ride back because Ruiz could see herself attending NDSU, but also knew she would miss her family. Ruiz's high school teachers and school counselor encouraged her to apply. They reminded her that she wouldn't be the only one.
"I'm Hispanic and my sister and nieces have always been so close to me," said Ruiz. "It was important to me not to leave them, but at the same time, I have to do what's best for me. I know that to help them out later, sacrifices have to be made."
Ruiz is the first person in her family to attend college. Her family couldn't help with financial aid or academic questions. She doubted herself and her transition to college was difficult at times. But she learned she wasn't alone. Her biggest support came from getting involved and meeting people.
Ruiz got on-campus jobs at the Student Activities Office and Campus Attractions. She now works in the provost's office. She joined TRIO, a national organization that serves and assists income-eligible, first-generation college students, and students with disabilities to progress through their academic careers.
She joined HOLA, a Hispanic student organization, took advantage of TRIO's tutoring program to get help with school work and visited the Career Center and Counseling Center to help plan her future.
"I'm grateful for all the people who have helped me succeed and were there for me when I needed them," said Ruiz.
Ruiz graduated with her undergraduate degree in psychology in 2015 and now is a graduate student in the counselor education program.
"I think a lot of people feel like they don't get the help that they need, but I had important people in my life who helped me get through," she said. "Now I want to, in return, help other people and make a difference."
She plans to be a high school or college counselor. She'll remind students they aren't the only ones.
"We all come into college thinking we need everything figured out and that our families don't understand," said Ruiz. "Everyone has something to contribute regardless of where they come from, so trust yourself and give yourself a chance, even if it takes longer than others."