INSPIRING TEACHER
Inspiring Teacher: Gary Secor, professor of plant pathology
Published March 2019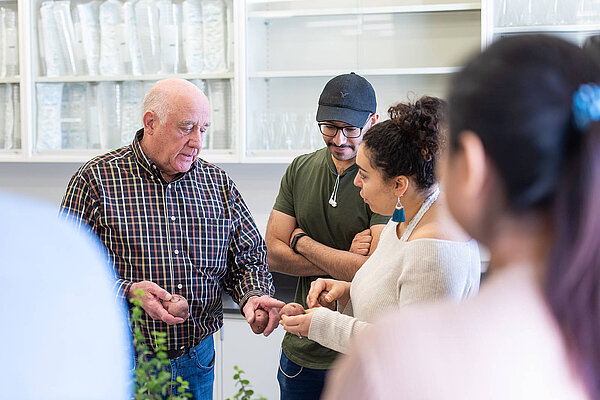 Gary Secor is an admired instructor and researcher who joined the NDSU faculty in 1978. He is a leading authority in the area of potato disease, concentrating in recent years on potato late blight, new disease discovery, zebra chip, fungicide resistance management in pathogens of potatoes and sugar beet, blemish diseases of potato and post-harvest diseases. He is a frequent speaker at national and international conferences.
His numerous honors include the Eugene R. Dahl Excellence in Research from NDSU, Meritorious Service Award from the Northern Plains Potato Growers Association, Distinguished Service Award from the sugar beet industry of Minnesota and North Dakota, Meritorious Service Award from the National Potato Council, Honorary Life Membership in the Potato Association of America, Distinguished Service Award from the Potato Association of Chile and Industry Award from the World Potato Congress.
Secor teaches half of the Introductory Plant Pathology course to about 100 undergraduate students and the Plant Virology course to graduate students, plus provides guest lectures in other courses. He has taught Plant Virology to graduate students and professionals three times at the University of Concepcion, Chile.
WHAT EXPERIENTIAL LEARNING OPPORTUNITIES DO YOU PROVIDE YOUR STUDENTS?
In the undergraduate class, we recruit students to work in our lab and I tell lots of real life experiences and examples to keep the class attentive and interested.
HOW DID YOU DECIDE TO PURSUE YOUR PROFESSION?
I have always liked science and nature, and I just kept going to school.

WHAT DO YOU LIKE BEST ABOUT TEACHING?
I like being able to tell real world stories about my profession.
WHAT IS YOUR FAVORITE CLASS OR TOPIC TO TEACH?
Teaching undergraduate students is my favorite; they are always irreverent and fun.
HOW WOULD YOU DESCRIBE YOUR TEACHING STYLE?
I guess I'd describe it as telling students what I think is important, punctuated with practical examples. I try to keep the students interested and awake with stories.
HOW DO YOU KNOW YOU'VE SUCCEEDED WITH A STUDENT OR A CLASS?
I look for smiles, questions and communication both before and after class.
WHAT HAS BEEN THE BEST MOMENT OF YOUR TEACHING CAREER SO FAR?
The best moments are when students see me on campus or at meetings and remember me. I enjoy it when they tell me how much they enjoyed my class.
WHAT HAVE YOU LEARNED FROM YOUR STUDENTS?
I've learned to be patient and not pre-judge my students. I think, over time, I've become more flexible, understanding and laid back.
WHAT IS SOMETHING EVERY STUDENT SHOULD EXPERIENCE BEFORE THE GRADUAT FROM NDSU?
Three things: to read, write and speak. Those will get you through anything.
Secor is a native of Bozeman, Montana. He earned his bachelor's and master's degrees from Montana State University and his doctorate in plant pathology from the University of California, Davis.