COMMENCEMENT
Graduating senior ready to start teaching career
Published December 2016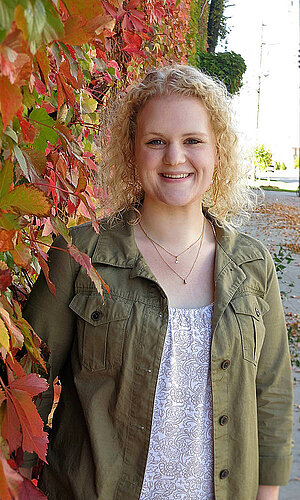 Lindsey Simenson knew she wanted to attend NDSU since she was 12 years old. Now, she's ready to graduate and start her teaching career.
Simenson attended an NDSU science, technology, engineering and mathematics camp, known as STEM, when she was in middle school. She fell in love with the campus and people – and dining center. She thought briefly about NDSU's nursing program but knew her passion was teaching.
"I'm overjoyed with my choice to attend NDSU for teaching," said Simenson. "The environment is so supportive and there are a lot of opportunities."
Simenson's strong work ethic drove her to join campus education, volunteer and leadership organizations. She created a professional network with fellow education students and learned from NDSU faculty.
"NDSU prepared me for my career," said Simenson. "When you learn from effective teachers, you can more easily become an effective teacher yourself."
She will teach social science education, which includes history, sociology, psychology, economics and geography.
She'd like to stay in North Dakota, teaching middle school and high schools students. This semester, she finished student teaching at Sheyenne High School in West Fargo.
"The students bring enthusiasm to the classroom," said Simenson. "It's exciting to see their potential and where they're going."
Simenson plans to substitute teach in the Fargo area. She'll apply for open teaching positions in the spring and looks forward to having her own classroom soon.
"Teaching shows the impact you can make in a short amount of time," said Simenson. "It shows how much being there matters to students."