DRIVE FOR 5
Haeg uses analytical approach on and off the field
Published January 2016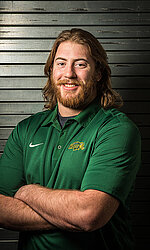 Joe Haeg knew at an early age that he wanted to become an engineer. It all started with his first set of Legos. He was the kid who spent hours laboring over an elaborate Lego creation. He brought that focus to NDSU where he is a senior majoring in civil engineering.
Haeg's favorite part of civil engineering is designing large-scale projects such as highways and wastewater treatment facilities. For class, he designed a wastewater plant for Glyndon, Minnesota. He also interned the last two summers with local engineering firm Advanced Engineering and Environmental Services, or AE2S.
His industry experience and the knowledge he's gained through his NDSU classes have helped him in his football career. As an engineering student, he has learned an analytical approach to solving problems. He uses this thought process to help him to understand the opponent's defense. He looks at it as a pattern he can use to predict what the defense will do.
Haeg, an offensive tackle on the football team, will take the field for the last time for NDSU when he and his teammates play in the Football Championship Subdivision national championship football game on Jan. 9 in Frisco, Texas.