INSPIRING TEACHER
Jill Zuber, associate professor and Master of Accountancy director
Published February 2019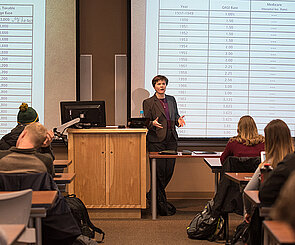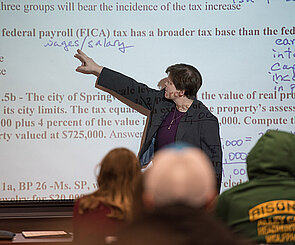 Jill Zuber is passionate about her students in NDSU's College of Business. She teaches elective courses in taxation and makes sure her accounting students are prepared for their careers through hands-on group projects that encourage them to share their ideas and solve problems.
Zuber earned her bachelor's degree from Point Loma Nazarene University, master's degree from San Diego State University and her doctorate in business administration from the University of Arkansas.
How did you decide to pursue your profession?
In high school and college, I tutored other students in math. These one-on-one interactions were challenging and exciting in that they helped me understand the process others were using to solve problems and I was able to assist them not only with solving the problem but understanding why the components of the process were necessary. As an accounting major, I found I had a knack for explaining complex material in simple terms. It was during a study session with a couple of buddies that I first considered teaching at the college level. It is an awesome moment to experience when a friend or a student has a certain look in their eye that says, "now I understand." After gaining experience in public accounting and becoming a CPA, I decided to pursue a career in education.
What have you learned from your students?
I have learned that students have different learning preferences or styles that work best for them. For this reason, I find it important to include a variety of activities and assignments during the semester.
Last year, I incorporated a series of documentaries on tax-related topics and asked students to write a short reflection paper about their views and how the particular topics impacted them personally. From reading their reflections, I witnessed their growth throughout the semester. By far, this has been the best teaching method I have used to engage students in course material.
What is your favorite film featuring a teacher?
The films I like the best are the ones that inspire me. In "October Sky," Homer Hickam (Jake Gyllenhaal) grew up in West Virginia and was expected to become a miner like his father (Chris Cooper). However, Homer had other interests and his own vision for the future. With the encouragement of his teacher, Homer and a couple of friends explored designing, creating and launching rockets after they saw Sputnik 1 in the sky. After many experiments, Homer showed his rocketry at the National Science Fair in propulsion and received a college scholarship. Later, Homer worked for NASA as an engineer. I am inspired by Homer's courage to pursue his dreams even though other people had different expectations of him.