INSPIRING TEACHER
Justin Walden, assistant professor of communication
Published January 2017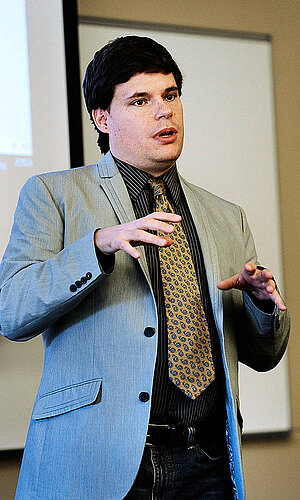 Justin Walden teaches undergraduate courses that focus on strategic communication. He also teaches a graduate course on research methods. Walden brings a variety of real-world examples to the classroom and is noted for his ability to connect with students.

He joined the NDSU faculty in August 2015. Walden earned his bachelor's degree at Rockefeller College, State University of New York at Albany; his master's degree in media studies from Syracuse University; and his doctorate in mass communications at Pennsylvania State University.

How did you decide to pursue your profession?
Growing up, I had a sense that somehow, someway I was meant to teach. However, I did not know how exactly I would get to the classroom.

After graduating from college, I became a journalist and eventually, a public relations practitioner. During my time in the field, I was introduced to research and professional mentorship. That set the stage for me to make the transition from industry to academia.

What do you like best about teaching?
I enjoy forging meaningful relationships with my students in and out of the classroom. I love it when I see students connect what we are discussing in class to their own lives and future careers. Is it weird that I want to high-five my colleagues when I lead a great class discussion?

What drives you as an excellent instructor?
I strive to create a dialogue and educational experience that is meaningful for my students. This involves drawing upon my professional experiences (both the good and the bad) to paint an accurate picture of what my students can expect in the field of communication.

I also think back to what I personally sought from my professors when I was a student: To be respected, to be challenged and to have material presented to me in a relatable manner.

What is the best thing about your job?
Having a supportive department to help me as a scholar. Between taking classes as a student and being an instructor in my own right, I have been affiliated with seven different universities. NDSU's Department of Communication is by far the most collegial and welcoming department that I have encountered.

Describe your teaching style.
My courses are driven by discussion and real-world problem solving. I like to present students with hypothetical scenarios and have them talk out how they would solve those problems. This can be something as basic as writing a creative headline for a press release to determining how to conduct and interpret the findings from an intensive research study. We walk through the "what ifs" of what could happen in a given situation, and then students apply what they have learned through activities. We de-brief afterward.

How do you connect with students?
I listen, empathize and share my experiences. I had an intense and enjoyable career in the field of communication before I became a professor. Sharing my own rejections, misfires and disappointments is particularly informative when it comes to connecting with students. And for some strange reason, my students like it when I talk about my two cats in class.

What trait or traits do you see in successful students?
Passion, creativity and a willingness to think ahead.

What has been the best moment of your teaching career so far?
On the last teaching day in a class last semester, my students gave me an unexpected round of applause as I walked out of the classroom. I do not do this job for the recognition, but the impromptu feedback was quite moving.

What have you learned from your students?
As a newcomer to NDSU, my students have been terrific in terms of helping me learn about local traditions and the community. It has been a slight culture shock coming here, so I appreciate it when students take the time to tell me about their hometowns and some of the regional history. On another level, I have learned to always strive to improve as an instructor. If I am not looking for current examples or considering new ways to engage with my students, then I am not doing my job.

What makes NDSU a special place?
The one thing that strikes me about NDSU is the sense of community. On campus, students, faculty, and staff all really respect each other. Off campus, the local community seems to love NDSU. The amount of pride that people have for this university — and for the region in general — is amazing. There is genuine warmth that can be felt across campus and in the community.

What is your favorite NDSU tradition?
Seeing performance practices in the Music Education Building and the Beckwith Recital Hall is the nicest part about being on campus each day. Going from my office to my parking spot, I pass through the MEB, and I am able to catch a dance or performance practice. Each time, I stop to listen or watch for a moment – it brings a smile to my face.