COMMENCEMENT
Meet 2 p.m. commencement speaker Lauren Singelmann
Published April 2018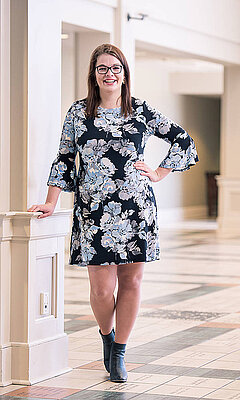 Graduating senior Lauren Singelmann will emphasize a passion for problem-solving in her message to classmates during NDSU's Commencement Saturday, May 12, in the Fargodome.
Singlemann, an electrical engineering major from Fargo, has been selected as the student representative to give remarks during the 2 p.m. ceremony. For her, everyone working together is key to getting something accomplished.
"Although we are done with school, the learning is just beginning," Singelmann will say in her speech. "NDSU has provided us with an outstanding education, but it's up to us to decide how we are going to use it to make an impact while doing something we love. Whether our passion lies in clean energy development, health care or establishing food security, we have problems that we want to solve. We have the qualities and skills to go out and solve them."
During her time at NDSU, Singelmann was an exceptional student and researcher. She received several scholarships and, as a student researcher, took part in a series of cardiovascular engineering projects. The goal of that work is to create human cardiovascular therapies and treatments that are less invasive than pacemakers.
"I've enjoyed research because I can decide what I want to learn," Singelmann said. "I can figure out what I want to solve and figure out how to do it."
She received several awards for research excellence. She earned first place in oral presentations at the 2015 NDSU EXPLORE undergraduate research competition, third place in oral presentations at the 2017 Rocky Mountain Bioengineering Symposium and second place in the service track of the 2017 NDSU Innovation Challenge.
She was also active in student organizations throughout her undergraduate career. Singelman was president of the NDSU Society of Women Engineers and member of the Blue Key Honor Society. She served as a College of Engineering Ambassador.
Singelmann contributed more than 300 hours of volunteer service as a student,helping with K-12 STEM outreach through the Society of Women Engineers and the College of Engineering.
She will continue her efforts to educate future engineers as she begins work as the NDSU College of Engineering outreach coordinator. This fall, she plans to start working on her master's degree in electrical and computer engineering at NDSU.
"I am so grateful for all of the opportunities I have had to get involved on campus," she said. "Those activities have not only prepared me for my future endeavors, but also connected me with so many outstanding people. NDSU feels like family to me, and I can't think of a better place to start my career and further my education."