COMMENCEMENT
Meet 2 p.m. commencement speaker Colette Bersie
Published May 2017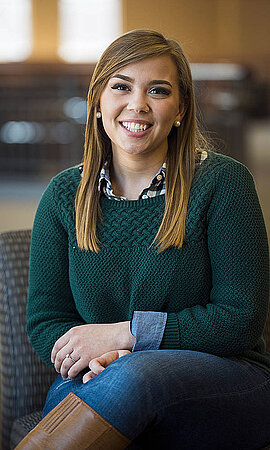 Colette Bersie plans to focus on lessons learned at NDSU when she gives an address to fellow graduates at spring commencement. Bersie is set to speak at the 2 p.m. ceremony, Saturday, May 13, in the Fargodome.
"I was thinking about how bittersweet it is to graduate from the awesome NDSU community and how graduates can take some of the core concepts from NDSU into our post-graduate lives" said Bersie, who is from Delano, Minnesota.
She'll talk about the importance of finding commonalities with people, taking pride in the work of other people and yourself, and celebrating victories along the way to reaching big goals.
Bersie double majored in management and marketing and has already started her career at Cargill in Wayzata, Minnesota, as a marketing coordinator. She works remotely and will move into the corporate headquarters after commencement. She interned at Cargill last year.
"I'm never bored, and I love what I do there," said Bersie. "I already feel like a contributor to my team."
Bersie was a big contributor at NDSU, too. She was a student representative on the College of Business Dean's Advisory Board, member of Beta Gamma Sigma and Order of Omega honor societies, Kappa Alpha Theta sorority, co-founder of the College of Business organization Leading Edge and student senator in NDSU's student government.
"Colette exemplifies the very best of our college and NDSU," said Scott Beaulier, dean of the College of Business. "She's been an outstanding student, both within the classroom and through her countless extracurricular activities."
She's excited to represent her fellow graduates and the College of Business at commencement and continue her career.
"NDSU excelled in blending my business curriculum with an emphasis on modern agriculture and all the career opportunities in this industry," said Bersie. "There is a place for every student to pursue a passion and stand out for their accomplishments."