COMMENCEMENT
NDSU doctoral graduates join leading-edge companies
Published December 2016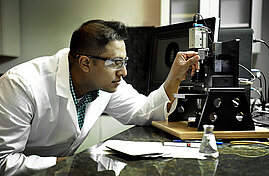 Teluka Galhenage and Adlina Paramarta are ready to go to work. They are both graduating with doctorates in coatings and polymeric materials and starting careers at advanced technology companies that seek talent with specific scientific skills. They are examples of NDSU graduates who are prepared to contribute to the every-changing marketplace now and in the future.
Galhenage has accepted a position as a senior formulations engineer with SLIPS Technologies Inc., a start-up company that commercializes research at the Wyss Institute at Harvard University. The company's name stands for Slippery Liquid Infused Porous Surfaces. It develops coatings to repel any liquid that comes in contact with a surface. One example is a coating to prevent barnacles, mussels and algae from attaching to ship hulls.
Paramarta is a plastics engineer for Tesla Motors in California. She started her job in August, looking for ways to evaluate and improve the manufacture of plastic components, such as bumpers, instrument panels, center consoles and side mirror caps, for the electric car manufacturer.
How did your experience at NDSU prepare you for your new job?
Galhenage: My experience working on non-toxic marine coating development directly translated to my new job, which is quite exciting. The training and the skills I acquired at NDSU's Department of Coating and Polymeric Materials allowed me to quickly settle in to my new role. I'm able to apply the knowledge I've gathered during my graduate studies.
Paramarta: Working in a fast-paced tech company such as Tesla demands high-level project management skills, flexibility, quick thinking and open-mindedness. Through my NDSU graduate experience, I obtained those necessary skills and the ability to be organized, flexible, adaptable, analytical and to solve problems.
Why did you choose NDSU?
Galhenage: NDSU's Department of Coatings and Polymeric Materials has one of the best programs for coating science in the world. The department has been around for more than 100 years, and it is always well connected with the paint and coatings industry. The faculty members are very highly respected and they bring a diverse span of industrial and academic research experiences. In addition, there are lot of opportunities for financial support through scholarships and competitions.
Paramarta: NDSU's coatings and polymeric materials program is a unique program that only a few universities in the country, or even in the world, offer. Coatings and polymers are everywhere, and the technologies behind how they work are fascinating. The career opportunities in the polymer and coatings field are endless.
How did research opportunities at NDSU pave the way for your career?
Galhenage: My research projects had a variety of real world applications, and nurtured me to develop unique skills that are transferable to my career as a polymer/coating scientist. Students are trained to use state-of-the art instruments, techniques and research facilities, providing them with a hands-on research experience.
Paramarta: Research experiences at NDSU, specifically at Department of Coatings and Polymeric Materials, provided me with a huge network of opportunities within the polymer and coatings field. In addition, the research topics are applicable to our daily lives and on trend with industry demands.
What were some of your favorite activities/organizations at NDSU?
Galhenage: I volunteered for the regional Science Olympiad competition at NDSU and "Avenues of Scientific Discovery," a program hosted by graduate students, to inspire high school students to pick STEM careers. During my undergraduate years, I participated in many events organized through the NDSU Office of International Programs and Division of Equity, Diversity and Global Outreach. I also was a member of the NDSU chemistry club. My friends and I watched a number of NDSU football games – I definitely enjoyed the Bison spirit at NDSU.
Paramarta: I was involved in chemistry club, International Student Association, tennis club, College Ambassador Graduate Student Council and many other organizations. I liked each for different reasons. Being involved was fun, and it gave me exciting opportunities, such as travelling to many places for chemistry conferences and tennis competitions. I also met people from different countries and learned about their culture.
Galhenage is originally from Colombo, Sri Lanka. Paramarta is from Boyolali, Java, Indonesia.