STUDENT SUCCESS

NDSU doctoral student lands dream internship
Published March 2017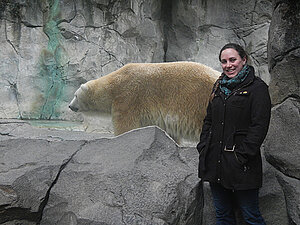 Tori Kennedy was in awe the first time she met an elephant and held its trunk.
That amazing moment was one of many she has experienced during her internship at the Smithsonian Conservation Biology Institute in Front Royal, Virginia, where she works to improve elephant breeding programs.
"I've dreamed about this since I was a little kid," she said. "I wanted to be a scientist or vet with elephants. Now I'm here at the Smithsonian in the name of science and meeting an elephant. That is a huge step for me."
Kennedy, a doctoral student, secured the highly competitive internship with guidance from her faculty adviser at NDSU. As an intern, she works with two post-doctoral researchers in the Smithsonian's Endocrine Research Laboratory. They monitor hormones to identify the optimal times for breeding and match health records with blood samples to look for markers of health and welfare. She's in her element.
How she got there
Kennedy earned a bachelor of science in animal sciences from The Ohio State University. As an undergraduate student, she developed an interest in animal reproduction by volunteering in a research laboratory. She worked on a project involving male fertility changes. A graduate student mentor noticed Kennedy's interest in animal reproduction and helped connect her to Kim Vonnahme, NDSU's Jordan Engberg Professor, who specializes in female reproduction and ultrasound in animals.
"I'm a big fan of ultrasound and using that as a research tool," Kennedy said. "I was impressed by Dr. Vonnahme and by NDSU's animal science program. I decided that was the best place for me to do hands-on work."
Kennedy arrived in Fargo in 2013 to pursue a master's degree. Her thesis project focused on pregnancy in beef cattle. But in the back of her mind, her goal was to work with wildlife. While completing her coursework for her doctoral degree, she spent the next year brainstorming with Vonnahme and writing grants to make her experience with wildlife more successful.
As a faculty member, Vonnahme believes it's her job to push students. Understanding Kennedy's interest in wildlife, Vonnahme contacted people she met at conferences and professionals in her network.
"Tori is highly motivated. Her curiosity is amazing and she is not scared to try new things," Vonnahme said. "I knew she needed to go and spend time in this field to see if it was actually what she wanted."
Vonnahme helped connect Kennedy with NDSU alumna Janine Brown, who is a reproductive physiologist at the Smithsonian Conservation Biology Institute. Brown offered the experience Kennedy was looking for – an internship in elephant health monitoring in the endocrine laboratory. Kennedy immediately applied.
"Dr. Brown is an academic hero of mine," Kennedy said. "When I found out she was an NDSU graduate, I was excited that of all the students who contact her that she might want to talk to me."
Hundreds of prospective students inquire about the internship program each year, but Kennedy's application stood out. "Tori was recommended by someone I trust and respect and I thought it was great that she was going to North Dakota State," Brown said. "There were a lot of things in her favor that got our attention. We were intrigued that she was in an animal science program, but that her heart was in wildlife. That is the same thing that happened to me."
Brown's own interest in animal reproduction was sparked during a reproductive physiology class she took in the animal sciences department at NDSU. She believes an animal science degree offers well-rounded training and education experiences where students learn about the whole animal.
"Wildlife research is a comparative science," Brown said. "You need to understand biological mechanisms and how they vary across species, which you get from studying livestock. We're teaching Tori these skills. Her animal science state of mind is key to understanding the complexities of working with wildlife."
Kennedy's internship experience was extended so that she could be involved in an additional project studying Andean bears. She serves as the lead on the lab team, establishing ways to measure hormones to confirm pregnancy and evaluate how management affects stress and welfare. This research is unique because it has never been conducted on this species of bear.
Her education and experience have also been valuable to the research team. "I learned how to do many things at NDSU," Kennedy said. "I'm proud to bring the animal science perspective to the table because I'm contributing something," she said. "These are people whose research I've been reading all of my academic career and they're pushing me to do things to expand the research and knowledge."
Inspiring mentors
In the past, few women worked in the animal science field. Kennedy believes that is changing.
"I'm working with Janine knowing that during her graduate studies she was one of only two female grad students, and now she's the leading elephant reproductive biologist in the world. At NDSU, I work with Kim, who in her field is a groundbreaking woman in science. That has been inspiring," she said.
NDSU offered Kennedy a unique opportunity as a graduate student. Not all advisers would have encouraged her or offered the flexibility to explore her interests before earning her degree.
"Dr. Vonnahme has always supported students and especially me to think outside the box. To push for unique possibilities. NDSU didn't offer a program to study pregnancy in mammals that I wanted to research. She recognized that and helped me figure it out," she said. "The whole experience was daunting at first but it has been one of the best decisions I've made. It was totally worth it, and I feel like I have so many options that I have to decide instead of the challenge of if I have anywhere to go."
Kennedy's plan is to solidify her plan for her doctoral research in the coming months. "I know it will be something with identifying early pregnancy and trying to figure out pregnancy as early as possible to improve our breeding and management programs," she said. "Hopefully that could include doing research at a zoo like the Smithsonian."