ALUMNI
NDSU grad leads internationally-recognized research program
Published March 2018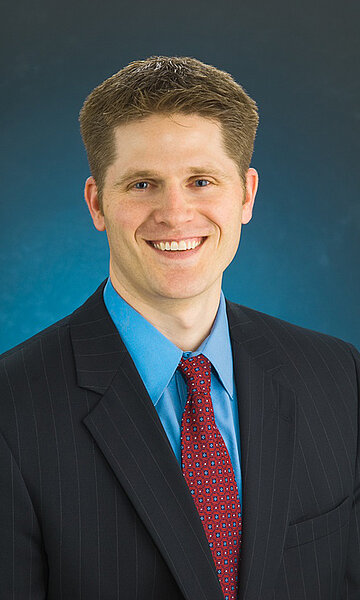 Kelly S. Swanson is the 2017 distinguished alumnus for the College of Agriculture, Food Systems and Natural Resources. He is a 1997 graduate with a bachelor of science in animal and range sciences.
He is the Kraft Heinz Co. Endowed Professor in Human Nutrition at the University of Illinois, Urbana-Champaign, where he leads an internationally-recognized research program that examines how food nutrients impact gene expression. His emphasis is on obesity and gastrointestinal health.
Swanson's laboratory has received about $12 million in grants, and he has earned a dozen research and teaching awards.
During his Feb. 14-15 visit to campus, he met with students, faculty and administrators.
What is your message for students?
I met with the Saddle and Sirloin club last night, and I told them to certainly go to class, but also to get involved in other ways. Be active in clubs, internships and work with your professors on the research side outside of class. Have fun, but that kind of involvement will help identify what you like and don't like to do. It also can form networks that you may find useful later on, and you can develop soft skills that are more important than a few lines on a resume.
How did your NDSU experience contribute to your career success?
The last summer I was here, I worked in the NDSU Beef Unit. That was helpful, and I should have done more than that. I had an inquisitive mind and the professors at NDSU took the time to help students and apply the material. The faculty stimulated my interest, and they fostered that outside of class with their guidance. The best things were the comments and advice they gave me. I was in some clubs, but it really was the people in the department that I now try to model myself after.
What made your time at NDSU special?
At UI-Urbana-Champaign, we probably have three times the students as NDSU, but I try to do what the NDSU faculty do. I try not to treat people as a number.
Faculty at NDSU took the time to help students, apply the material to real-world practices and brought in the business side of operating a farm. There was a personal feel to campus and good-sized classes. While I was a student, I participated in Saddle and Sirloin and was active in intramural sports. And growing up on a farm, I found Fargo-Moorhead to be a nice community.
What lies ahead for you?
I lead a research group of eight graduate students and post-docs, five or six undergraduate students and a visiting scholar. I have a really good tie with industry and I want to maintain that in the future as the industry's landscape changes. I don't have any plans of where I want to be in 10 years. Right now, with my teaching and research responsibilities, I'm happy where I am.
Swanson grew up on a farm near Thief River Falls, Minnesota. He earned his master's and doctoral degrees at the University of Illinois, Urbana-Champaign.