STUDENT FOCUSED
NDSU knitting group gives gifts of warmth
Published October 2016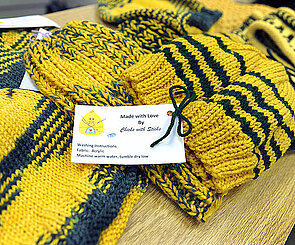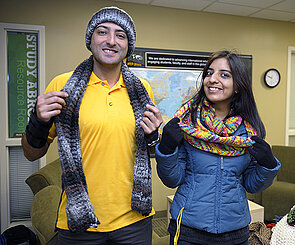 A group of knitting enthusiasts from NDSU and the Fargo-Moorhead community recently delivered more than a 110 sets of handmade mittens, hats, scarves and cowls to North Dakota State University's International Student and Study Abroad Services.
The knitted items are for international students, many of whom see snow for the first time when they come to NDSU.
"It is our way of providing a warm welcome to students who may be about to experience their first North Dakota winter – or their first winter altogether – while being far from home and family," said knitter CeCe Rohwedder, assistant to the vice president for information technology.
No two sets are alike, as the knitting group experiments with new yarns, patterns and techniques. The knitters usually work on the items individually, but they get together about once a month to knit, socialize and share a sense of purpose.
"Each hat, scarf or pair of mittens we make is knitted with more than yarn. Woven within it are our thoughts of caring for the student who will wear it, and our wishes for a feeling of comfort, belonging and community," Rohwedder said, noting the group, called Chicks with Sticks, has already started work on the next batch.
The students love the warmth of the one-of-a-kind creations.
"I deeply appreciate Chicks with Sticks for making these beautiful items. It is obvious every item was made with love and care, which makes them extra cozy," said Ebi Alagha, a junior from Nigeria who is majoring in electrical engineering.
"It is such a joy to see how much fun students have as they pick out the perfect scarf or hat, all while hearing stories of how useful the knitted items will be during the winter months in North Dakota," said Alicia Kauffman, director of International Student and Study Abroad Services. "The generosity and care shown by the Chicks with Sticks group truly reflects what it means to be part of the NDSU family and the Fargo community."
The knitting group was organized in 2012 and always welcomes new members. Its current membership, in addition to Rohwedder, includes:
• Laura Dallmann, administrative secretary in electrical and computer engineering
• Kyla Domingo, NDSU alumna
• Nicolette Lippert, graduate student in electrical and computer engineering
• Bonnie Neas, retired vice president for information technology
• Denise Roehl, administrative assistant, NDSU Research Foundation