DRIVE FOR 5
NDSU quarterback teams up with Special Olympics athletes
Published January 2016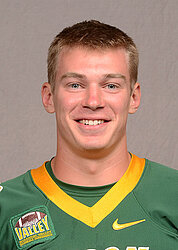 One day after leading the NDSU football team to a 55-0 victory over Missouri State, quarterback Easton Stick and a group of classmates led a football skills mini-camp with nearly 40 Special Olympic athletes. It was part of Stick's Sports and Event Management class project. Stick is a freshman majoring in sport management.
Special Olympic athletes from NDSU and the Fargo-Moorhead community joined NDSU football players and several other students for the event. Athletes practiced kicking field goals, scrimmaging and running drills.
Stick said the highlight was bringing together his classmates, football teammates and Special Olympics athletes in a fun way.