COMMENCEMENT
NDSU senior going to work in horse racing industry
Published May 2017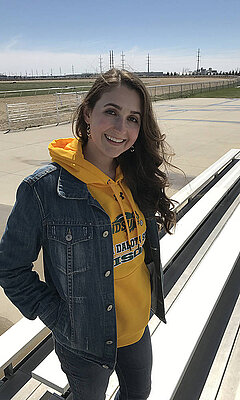 Annise Montplaisir loves horses and came to NDSU knowing she wanted a career in the horse racing industry. She planned her education and pursued activities and internships that are helping her create the life and career of her dreams.
"Originally, I started as a journalism major, but changed to management communication because I felt it was a way of combining business, writing and communication skills," she said. "I'm double majoring in international studies because I wanted a more global perspective to compliment my communication major as I enter an industry with a worldwide market."
Montplaisir, who is from Moorhead, Minnesota, studied abroad in Chile, an experience that pushed her as a person and future professional. "My proudest moment is when I arranged to get a press pass and work as media at one of Chile's most prestigious horse races," she said. "It tested all the communication and language skills I've built throughout my college career, and I came away a braver, more confident woman."
Montplaisir graduates this spring and plans to move to Lexington, Kentucky, for an internship with Fasig-Tipton, a thoroughbred auction company that has produced winners of world-famous races, such as the Kentucky Derby and Belmont Stakes.
As she reflects on her education, she sees how she has grown. "There were opportunities that presented themselves over the past four years that I hadn't anticipated, and taking advantage of them was what affected and influenced me the most," she said. "While NDSU has always been my home base, I ventured to Texas for a semester-long internship, worked as a staff writer in up-state New York for two summers and studied in Chile. One of the most valuable lessons I learned is that the more experiences you say yes to, the smaller and more accessible the world becomes."