STUDENT SUCCESS
NDSU graduates first medical diagnostic sonography class
Published May 2019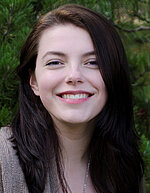 Alyssa Roberts, an NDSU senior majoring in biochemistry and molecular biology, has been awarded the prestigious Goldwater Scholarship.
The Barry Goldwater Scholarship and Excellence in Education Foundation was established by Congress in 1986 as a memorial to the late Sen. Barry Goldwater. The Goldwater Scholarship is considered the preeminent undergraduate award in mathematics, the natural sciences and engineering.
"I am incredibly honored and grateful to have received the Goldwater scholarship. The scholarship will not only support my undergraduate schooling, but will allow me to stand out when applying to graduate school," said Roberts, who is from Prior Lake, Minnesota. "My dream is to obtain my doctorate in immunology and study autoimmune diseases for my career."
A total of 496 Goldwater Scholars were named this year through support from Congress in collaboration with the Department of Defense National Defense Education Program. For the 2019 competition, 443 institutions nominated 1,223 outstanding undergraduates.
"The Goldwater is a highly competitive national scholarship. Students who receive it often go on to become highly successful researchers in their field," said Matthew Salafia, University Honors Program coordinator. "Alyssa is the first winner from NDSU since 2015. There have been seven Goldwater winners from NDSU before her."
Roberts is currently conducting research in the laboratory of Kenton Rodgers, professor of chemistry and biochemistry, in a collaborative project with Dr. Siobhan Wescott, assistant professor in the Master of Public Health program.
The aim is helping patients with sepsis, a potentially life-threatening condition caused by the body's response to an infection. Specifically, Roberts is working to understand how immunoglobulin G (IgG) interacts with a variety of antigens under controlled conditions. "Understanding the relationship between IgG and environmental conditions will bring the research community one step closer to being able to effectively treat patients with sepsis," she said.
"Alyssa has learned a number of laboratory techniques and moved the project forward through her early results. These and future results of her work may inform new clinical approaches to managing the life-threatening condition of sepsis," Rodgers said. "By virtue of her early progress on this project, Alyssa has demonstrated promise as a biomedical researcher, and I am delighted to see that the Goldwater Foundation has recognized that promise through a Goldwater Scholarship. I look forward to Alyssa's continued growth as a researcher."
Roberts is quick to praise her time at NDSU, noting her numerous opportunities to conduct research as an undergraduate student.
"Because of my research, I was able to attend a symposium in Georgia and the American Chemical Society conference in Boston," said Roberts, who is keeping open her options for graduate school. "Through this experience, I realized I wanted to pursue research in a more biology-related field, which led me to the research that I am currently doing. Overall, NDSU was the perfect place to start my research career."
The Goldwater Scholarships are up to $7,500 a year to help cover costs associated with tuition, mandatory fees, books, room and board. With the 2019 awards, the 8,628 scholarships awarded since 1989 have totaled more than $68 million.
Goldwater Scholars have impressive academic and research credentials. Goldwater Scholars have been awarded 92 Rhodes Scholarships, 137 Marshall Awards, 159 Churchill Scholarships, 104 Hertz Fellowships and other distinguished honors such as National Science Foundation Graduate Research Fellowships.