COMMENCEMENT
NDSU student-athlete excels at basketball and athletics
Published May 2016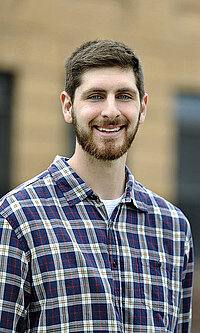 NDSU's Chris Kading excels as a student-athlete, finding success on the basketball court and in the classroom.
The graduating senior from De Pere, Wisconsin, enjoyed a memorable career as an NDSU basketball player and took home many academic honors in the process.
"I've always had high expectations for myself both academically and athletically. And my coaches set high standards – that helped push me," said Kading, who played in 90 victories while wearing an NDSU uniform, which ties him with Lawrence Alexander for the school record total.
His efforts on the basketball court led to an outstanding career of 129 games played, third-most by an NDSU player, and 112 blocked shots, fourth-most in school history. He played on two teams that appeared in the NCAA national tournament.
Kading brought the same intensity to the classroom, majoring in exercise science and psychology and minoring in Spanish. A member of Blue Key Honor Society, he was a 2015 Academic All-District honoree. Kading also was a three-time Summit League Academic All-League selection and a three-time member of the National Association of Basketball Coaches Honors Court, which recognizes academic excellence.
"I had a ton of help from a whole group of people since I've been at NDSU," Kading said, praising his coaches for their emphasis on academics and the NDSU faculty for their support during a grueling schedule.
Both of his parents, Doug and Jane (Kertz) Kading, graduated from NDSU in 1985, so perhaps it was only natural for him to follow their lead. "NDSU was my first choice; I wanted to come here. And it was a great fit for me," Kading said.
This fall, he will attend graduate school for physical therapy at St. Catherine University in the Twin Cities. Kading's career goal is to be a physical therapist, working with either athletes or senior citizens.
"Everything that happened at NDSU has helped me grow as a person," Kading said. "I wouldn't change a thing."