STUDENT FOCUSED
NDSU students create event app
Published September 2017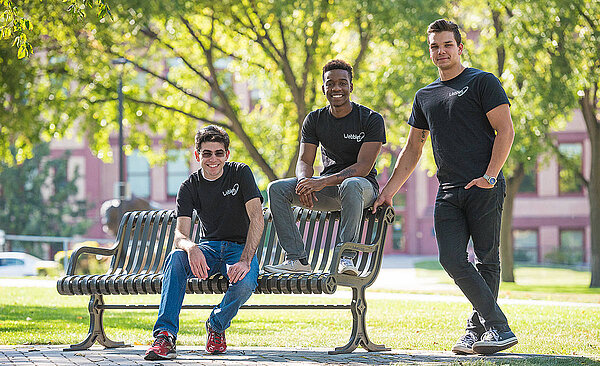 A group of friends often wondered what was going on Saturday nights, but weren't sure where to find out. They used a little boredom and the right skill set to start a company and create an event app for Fargo.
"There are usually things to do around Fargo, but a lot of times, people don't know about them," said Mukai Selekwa, an NDSU student and company founder.
Selekwa, a sophomore studying computer science, developed the Webblen Events app for Fargo and is the director of technology. Nathaniel Thoreson, a sophomore majoring in marketing, is in charge of communications and marketing. Austin Braham is majoring in economics and finance. He's the chief strategist and financial officer.
Each entrepreneurial student takes what he learns in class every day and applies it to the company.
"If we didn't have the team that we have, we wouldn't be where we're at today," said Braham.
The Webblen Events app allows users to search for events happening around them based on their interests, such as Greek life, sports and music. Individuals and organizations may promote events on the app for a small fee.
"It works great for students, families, the tourism industry and all sorts of organizations," said Braham. "The goal is to be the app of Fargo."
It's the kind of entrepreneurial spirit found in many NDSU students. In fact, the university recently invested $4.5 million in an entrepreneurship and innovation endowment. It encourages students to pursue big ideas and innovative thinking and activity – like creating a company while still in college.
The three Fargo natives are thankful for all of the positive responses from the community.
"A lot of people are very excited for the app," said Thoreson. "There hasn't been a single person that isn't willing to help us grow in some way."
Webblen Events launched in the Apple app store on Sept. 12 and is a free download. Webblen plans to make the app available on Google Play at a later date.