LAND GRANT
New book examines the history of music at NDSU
Published March 2017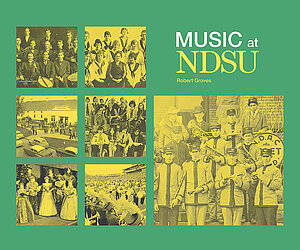 The colorful, lyrical history of NDSU's Challey School of Music is highlighted in a new book by longtime music professor Robert Groves. "Music at NDSU" was published by the North Dakota State University Press.
It contains more than 200 photographs, dating back to the campus music clubs of the 1890s and the formation of the Department of Music in 1903. The official designation of the School of Music occurred in 2012.
Groves has been an NDSU faculty member since 1972, focusing his work on the piano and music history. The highly-regarded performer, clinician, adjudicator and author shared some thoughts about his new book.
Why did you write "Music at NDSU?"
Division of Performing Arts director John Miller suggested the idea about four years ago. Once I started researching, the enthusiasm and commitment to write the book became purely self-generated.
What is your favorite part of the book?
My favorite (and certainly most satisfying) parts of the book are the sections I knew the least about – such as the names, dates and teaching duties of the six decades of music instructors who pre-dated me. I also felt great satisfaction in figuring out why junior and senior marching band members were given a modest stipend by the military department for more than 75 years; discovering how in 1916 Clarence Putnam convinced the military department to allow women to play in a new concert version of the all-male Cadet Band; how today's Concert Choir got its start in 1939; and the story behind Music Hall, the music department's largely forgotten home for nearly 45 years.
What will readers gain from your book?
Since most of the readers likely will have had some personal connection to music at NDSU, I hope they gain historical perspective on how their experiences were part of the evolutionary process that has taken decades to unfold. I found the story behind music's 120+ years on campus to be surprisingly enlightening with regard to our region's social history, as well.
Was this a difficult project?
Yes, in terms of overall complexity and time consumption. However, for me, the satisfaction and delight I felt in discovery through research trumped any lingering notions that the process was difficult.
Did the research bring back memories?
To most people, 45 years as an NDSU faculty member sounds like a long time, which I suppose it is. But, it doesn't seem as long as it sounds. My memories of students, colleagues, courses, concerts and conversations have remained clear, but mostly unspoken. What was new for me was addressing and clarifying objectively those memories in written form.
What are your future plans – are there other books ahead?
I still love what I am doing, and hopefully my contributions continue to benefit my students and my colleagues. Finishing the book has freed up time to renew my work on some longtime publishing goals.
Other new books from NDSU Press
"Music at NDSU" was one of six books recently launched by NDSU Press, which has the mission is to stimulate and coordinate interdisciplinary regional scholarship throughout the Red River Valley, North Dakota, the North American plains and similar regions around the world. NDSU Press is part of the Institute for Regional Studies.
The other new books include:
· "Derby Girl: A Memoir," by Sammi Jones
· "Prairie Mosaic: An Ethnic Atlas of Rural North Dakota, 2nd Edition," by William C. Sherman, with Introduction by Thomas D. Isern
· "Land of Sunlit Ice," poetry by Larry Woiwode
· "Devotions," poetry by Timothy Murphy
· "This Could Have Been a Simple Story," by Ajla Terzić, translated from the Bosnian by John K. Cox