DRIVE FOR 5
Plankers shares his strategy for academic and athletic success
Published January 2016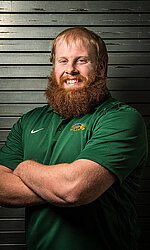 Jack Plankers is as successful in the classroom as he is on the football field.
Plankers, a junior majoring in industrial engineering with minors in psychology and business, has received local and national recognition for his strong academic performance. He made the Missouri Valley Football Conference academic honor roll, which recognizes academic achievement of student-athletes, in 2013 and 2014. He also earned the Titan Machinery Scholarship at the 2015 Harvest Bowl.
He chose his major because he's good at math and likes the systems management aspect of engineering.
The other part of his life is football. He is listed as an offensive tackle, but is known for his versatility, allowing him to fill in at several spots along the line. He even gained 10 yards rushing after recovering a teammate's fumble. Carrying the ball is a rarity for an offensive lineman.
The life of a football player on team that wins multiple national championships may sound glamorous, but old-fashioned time management is how Plankers juggles a rigorous course of study and football—that and "a serious lack of a social life," he joked.
How to be efficient and productive with limited time are major lessons he will take into his career. After focusing intensely on academics and athletics for several years, "you get uneasy not doing anything."
Plankers is from Leonard, North Dakota.