COMMENCEMENT
Research helps graduate gain experience before medical school
Published December 2016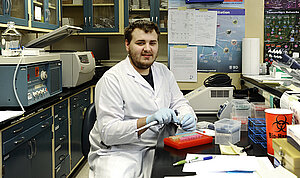 Dre Steinwehr's work as an EMT made him want to become a heart surgeon. And his educational experiences have helped prepare him to achieve his goals.
"I've really enjoyed my time at NDSU," said Steinwehr, who is graduating with a bachelor's degree in microbiology and plans to enroll in medical school. "NDSU has phenomenal teachers who change your life. They leave you with tools to succeed in life, things you will never forget."
Steinwehr, who is from Hankinson, North Dakota, came to NDSU after a year at the University of Minnesota. He transferred for opportunities such as access to local hospitals and undergraduate research projects. The move paid off.
He participated in asthma research directed by Jane Schuh, NDSU professor of microbiology, for two-and-a-half years. He put the skills he learned as an EMT to good use and came away with even more knowledge as he helped study the role a specific white blood cell plays in fungal allergic asthma. He became more curious, even more of a tireless problem solver.
His excitement for a medical career grew as Schuh's project gave him a glimpse of innovative work conducted in the medical field. The important role of research became clear.
Steinwehr also conducted his own study on the use of green tea as an all-natural alternative to conventional pesticides. The research earned recognition in NDSU's annual student innovation competition.
"Research is so completely different than the experience in the classroom," Steinwehr said. "There is no doubt in my mind that being able to work with Dr. Schuh in the lab will make me a better surgeon."
Steinwehr is also working on a master of business administration degree. He knows he'll need the management and leadership experience to qualify for a hospital administrator position. He expects to earn his MBA this spring, after which he'll enroll in medical school.
"A large part of doing the job I want to do is research," Steinwehr said. "To be successful, competitive and come up with innovations, you have to be able to conduct successful research. NDSU gave me the ability to do that. My dream to be a surgeon started in high school, but it solidified here at NDSU."