ALUMNI
Stacy Sime named distinguished alumna at NDSU
Published November 2018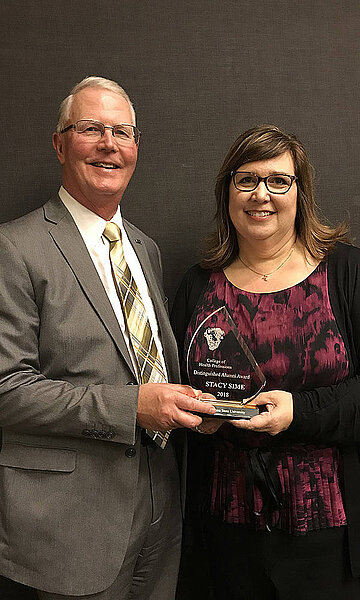 Stacy Sime has been selected as the North Dakota State University College of Health Professions Distinguished Alumna for 2018. Sponsored by each of the colleges at the university, the NDSU Distinguished Alumni Award Program recognizes accomplishments of outstanding alumni and educates students by introducing them to successful alumni in their respective fields of study.
As the president and CEO of LifeServe Blood Center in Des Moines, Iowa, Sime oversees the non-profit, community-based blood center which is the sole provider of blood and blood products to more than 120 hospitals across Iowa, Nebraska and South Dakota. It is one of the 15 largest blood centers in the U.S.
Sime is a NDSU graduate who majored in medical technology, receiving her bachelor's degree in 1988. She holds a master's degree in adult education, training and development from Drake University, Des Moines, Iowa. She is a native of Revillo, South Dakota, approximately 150 miles south of Fargo.
She began her career as a medical technologist at Mercy Medical Center in Des Moines. She later became program director of the Clinical Laboratory Science program. Her blood center career began at The Blood Center of Iowa, which later became LifeServe Blood Center. During her time in the organization, SIme worked her way through Quality, Donor Services, Recruitment and Hospital Services, including the testing laboratory. During her career, she advanced to vice president of operations and the role of president and CEO.
"Stacy Sime's commitment to advancing the field and her professional path show our students the many opportunities available in health care careers," said Polly Olson, director of the allied sciences department in the College of Health Professions.
Mercy Medical Center, where Sime began her career, is among seven medical centers in four states where NDSU medical laboratory science students gain hands-on professional experience during their clinical experience/internship of 11 to 12 months.
"NDSU holds a special place in my heart partly because the education I received has been integral to my success. The degree, however, is not the most important part of my relationship with NDSU," Sime said. "Some of my dearest friendships have their 30-year roots back to Weible Hall. I credit my years in Fargo as foundational to the person I am today," she said.
Sime led the merger of two regional blood centers in 2010 to create LifeServe Blood Center. She was one of the primary organizers of the National Blood Testing Cooperative. As a leader in her field, Sime speaks to international and national audiences regarding issues facing the blood industry and various leadership topics.
She appreciates the role blood centers play in the health care landscape. "Today, 86,400 Americans will receive a blood transfusion," she said. "Most of these Americans wake up not realizing that today a volunteer blood donor is going to save their life."
Sharing her expertise, Sime serves on the boards of the National Blood Collaborative, National Blood Testing Cooperative and Blood Centers of America. She is board chair of the National Blood Collaborative and vice chair of the National Blood Testing Cooperative. Sime previously served as the chair of Blood Centers of America and is now a member of its Governance Committee.
Through participation in an Administrative Think Tank for AABB (formerly American Association of Blood Banks), Sime published work on changes that needed to be made to strengthen the relationship between blood centers and hospitals.
Sime also actively works to develop tomorrow's leaders in her field. She served as educational coordinator for Mercy School of Clinical Laboratory Science and serves on its Advisory Board. She believes the success of any community is connected to the vitality of its workforce and is a member of a Regional Workforce Board.
"Recognizing our alumni such as Stacy Sime shows our students what is possible after they achieve their degrees," said Charles Peterson, dean of the NDSU College of Health Professions. "It also offers students an opportunity to hear from our alums directly through a classroom talk and interaction which benefits them as they begin to plan their future careers."