STUDENT FOCUSED
Student art on display at Barry Hall
Published September 2017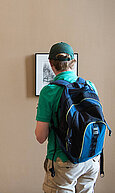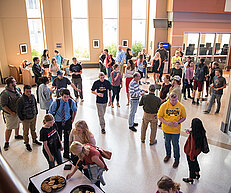 NDSU students gained experience working with and creating artwork for a real client. Their work is now on display at Barry Hall, home of the College of Business.
The collaboration between the College of Business and the Department of Visual Arts began with a newly constructed wall in the Barry Hall atrium. Scott Beaulier, dean of business, contacted Meghan Kirkwood, assistant professor of visual arts, to develop site-specific student artwork.
Art students toured the area and sent a survey to business students, faculty and staff to assess their preferences for photo subjects and asked about attributes of the college that could be useful to the students in planning their projects.
"I chose to photograph iconic things in Fargo and Moorhead because I grew up around here and thought it would be really interesting and fun," said Kelsey Hanson, who is studying art, photography and business administration.
The projects took half a semester to complete. Participating students were enrolled in an advanced darkroom class, which means they hand printed their images using a chemical process.
"Darkroom prints are black and white and have both a richer tonal range and are more archival than inkjet prints," said Kirkwood. "They are also much more labor intensive."
Students shot and developed their film for the project and critiqued their images with Kirkwood, Beaulier and their classmates.
"We voiced our opinions on the photos and whether they should be included in the exhibit," said Hannah Jessen, a strategic communication major from Canby, Minnesota. Jessen helped manage the project through an internship for her major. She put together a presentation for the dean and ensured everyone stuck to their timelines.
"I was able to see the project through from start to finish. I learned the value of leadership and communicating with people in a work environment," said Jessen, who also has photographs on display.
The students are majoring in a number of areas, including art, communication, journalism, political science and psychology.
"Collaborating with the College of Business challenged students to make something in response to the needs of a space and a community that was new to them," said Kirkwood. "The students were asked to create professional-level photographs and they truly rose to the occasion."
There are 44 photographs on permanent display. They are all scenes from Fargo, Moorhead and North Dakota.